by missyfly96 on 19 April 2010 - 13:04
I need to purchase a couple of crates to feed my dogs in, what size would be good to feed a full grown 75lb German Shepherd in?
42" x 30" or 48" x 33"
What size do you guys use?



by beast on 19 April 2010 - 14:04
44 x 30 is my males crate size(airline approved). He's about 85lbs and fits quite comfortably. We bought the biggest size we could find, but I'm sure their are much larger. We bought ours on sale for $220, they can be quite pricey depending on if you want all of the extras. Wire crates are much larger and cheaper, if they're just going to be in them to eat, or for short periods of time, you could look into getting one of those. We have 2 in our vehicle, they're great for traveling and to have on hand - just in case.
by missyfly96 on 19 April 2010 - 14:04
Yes, I'm looking at the wire crates and the two sizes I am finding is 42" or 48".


by Rik on 20 April 2010 - 02:04
I have several of both sizes. I would recommend the 48".

Best,
Rick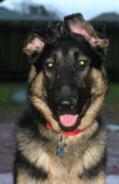 by spyla on 20 April 2010 - 03:04
Here is the wire crate I bought for SHADOW, who is 10 months old and 88 lbs. the crate is 58" X 36" and 45" high. Bought it at petsmart for $159.99 +tax

by Liesjers on 21 April 2010 - 01:04
Those are some huge crates! I use 36"s in my dog van and 42"s in the house.

You must be logged in to reply to posts
---
---
---
---
Contact information
Disclaimer
Privacy Statement
Copyright Information
Terms of Service
Cookie policy
↑ Back to top