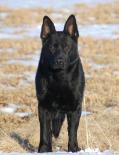 by Jenni78 on 10 April 2010 - 15:04
Who on here has had an unusual timeframe for delivery of pups, specifically pups who appear premature/may have been conceived on different days? Someone just told me of a litter they had with 3 normal pups and 3 that were tiny and hairless- clearly premature.

Have you ever had a long delay between the groups of pups born?

Got into a debate about this and can't find much in terms of concrete facts. There is much argument over the theories on premature pups, conception dates, etc. Figured someone on here would have some input or could share a story.
by vomlittlehaus on 10 April 2010 - 15:04
First of all, you dont get seperate eggs ovulated on seperate breedings. Eggs are ovulated, the eggs mature, if sperm is present, they are then fertilized. Read up on the canine heat cycle!!! Once the bitch goes into labor, it can take a couple hours to several hours. Depends on the size of the litter. Hopefully you have done an x-ray so you know how many pups she is carrying and when she will be done. Any x-ray done after 50 days gestation should show pups. The later the better. The bone in the pups is more solid and shows up better on the x-rays. Read up on some FACTS about the canine heat cycle and whelping pups.

by crhuerta on 10 April 2010 - 15:04
One litter born year 2008 December......mother went 13 hours between the first 6 puppies and the last 2.
She had NO stress, no contractions and no distress......they simply weren't ready to be born.
The only other female I can remember was about 10 years ago......she would normally have 1 puppy, 30 mins later..2nd.....then go 4 hours before the next couple....then repeat, if there were additional puppies. SHE always made me cringe!
However;....she was strong, and never had a problem whelping (despite my nervousness).
I don't panic anymore (knowing the bitch of course)...up to 4 hours between whelps.
Luckily....we have had only 2 c-sections in over 13+ years (both were imported, 1st time whelpers).....my husband (Carlos) is completely capable when it comes to whelping & assisting birth of litters.
Hope all goes well for you!
Robin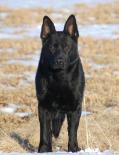 by Jenni78 on 10 April 2010 - 15:04
Dmsharkey, perhaps I wasn't clear, or you misunderstood my question, but that's not at all what I'm asking.

Robin, thanks. That's what I was curious about. Talking on the phone this morning w/a friend- different patterns that seem impossible but have happened and were "normal." Capri did that to me on her last litter- had in the early evening, went to bed, had 6 more the next day. I could've killed her. Of course I got no sleep that night, lol. But she was fine and all 9 were fine!

Robin, what's your take on the theory of premature pups in a litter w/normally developed pups?

BTW, Capri is doing fine, thanks;-)
by crhuerta on 10 April 2010 - 15:04
Jenni.....personally, I believe that they are all conceived at about the same time. I think eggs "drop" within a certain time, and the sperm fertilizes them or not....depending on the viability of both the egg & sperm.
I think "pre-mature" sized puppies are the cause of slower development within the womb....perhaps, because they are weaker from the start of conception.
But this is only my opinion, I am sure that others have different thoughts on the matter.
Respectfully,
Robin
by Schaeferhund on 10 April 2010 - 15:04
I know a female, she had 5 pups and then 1.5 DAYS later another one. All healthy and top fit.
by crhuerta on 10 April 2010 - 16:04
BTW...since it is possible for a litter to be sired by multiple sires.....I think it would be possible for the eggs to be "dropped" over a duration of a day or so....but I can't find "facts" to support more time than that.....again, JMO.
Robin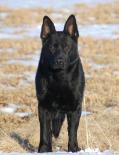 by Jenni78 on 10 April 2010 - 16:04
Schaferhund, INTERESTING! That timeframe works w/what Robin says, too.

I find this stuff fascinating.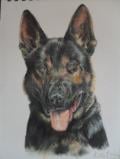 by 4pack on 10 April 2010 - 17:04
Did she stop at 3 Jen?

X-rays are a waste of time, they rarely give you the correct number.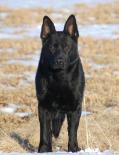 by Jenni78 on 10 April 2010 - 17:04
Oh, I think Capri's done, 4Pack. Someone suggested that she may not be which was what sparked the discussion about this in the first place.

I took an xray last time just to get a rough idea since it was her first litter, and it was accurate. I didn't bother this time. They have as many as they have and no more, lol.

All are doing great- Capri is her normal self.
You must be logged in to reply to posts
---
---
---
---
Contact information
Disclaimer
Privacy Statement
Copyright Information
Terms of Service
Cookie policy
↑ Back to top