by Arko on 17 December 2005 - 05:12
Witch is the earliest age to be noticed if a puppy will be of long hair? How you can see it?
by dee see on 17 December 2005 - 11:12
somewhere around 6 weeks if u can see hair in paws of puppy that means puppy would be long coated
by master on 17 December 2005 - 13:12
can long coated be used for future breeding program and can the progeny registered with GSD VA club.

by Bob-O on 17 December 2005 - 23:12
Another way to recognize a longcoat is by looking at the hair on the backs of the ears. As Dee Cee mentioned, at about six (6) weeks of age it is easy to spot. There are two (2) types of longcoat. First-the type referred to as "long stock hair". This hair is longer than normal, but the dog/bitch does have a true undercoat, and can be eligible for a breed survey result such as Kkl-2, rather than Kkl-1. The second type is a true "longcoat". This hair is longer than normal, and the dog/bitch never develops an undercoat. A coat of this type will not pass a breed survey. In all cases, the dog can be registered and trained just as any other dog. Certain lines produce the longcoat, but both parents must have the recessive gene for this to happen.
by Dawnmarie on 17 December 2005 - 23:12
There are judges who apparently give a VP ratings to "longcoat" puppies though, saw that with my own eyes at a show several months ago... but i havent seen a judge breed survey any :) Regards, Dawnmarie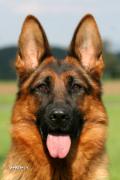 by huntshep on 18 December 2005 - 03:12
I have had long coats in the last several litters. At about 2-3 weeks if any puppies are questionable you will begin to see the difference in hair texture above the ears especially. Also the hair will have a more defined curl. In my litters I have found their head to look different from the other puppies from birth. If someone is interested in viewing I can email photos that make it really noticeable.
by k9only1 on 18 December 2005 - 18:12
huntshep, can you send the photos of these pups at 2-3 weeks? iv'e never seen it that early in a litter, 6 weeks is when iv'e seen it above the ears, and on the paws. bergtal2@aol.com
by RED BULL on 21 December 2005 - 12:12
I quite agree. I can usually tell by the 2-3 week age whether a pup will be long haired or not. There is a definite and noticeable difference in head shape - almost Schauzer with ever so sligtly longer,coarser hair around the nose. Also, look at the hair on the front legs - you will notice a difference in length and texture, albeit slight, but it's there - if you compare a couple of pups together (trusting that they're not all longcoats) you will see the difference. I've had pups with wavy coats around the shoulders and in most instances this doesn't signify a long coat - the above has been my tried and tested method for many a year and so far has not let me down.
by thecouch on 10 September 2007 - 13:09
Hello,
I'm wondering if you could email me pictures of the 2-3 week old long coated puppies? I'm in the process of buying one and would just like to see what another breeder has to say to determine the lengths. Thanks!
Sarah Couchie
rainbow_rayz@hotmail.com
by jdh on 10 September 2007 - 13:09
I have found the ear tufts to be most reliable. Also as stated slightly longer shaggier hair on face and legs that would normally be very short and smooth. I once sold a pup without ear tufts as a pet because he had a rather shaggy mane and a slightly longer coat than his siblings. By 6 months his coat was 100% normal. Best Wishes, Jonah
You must be logged in to reply to posts
---
---
---
---
Contact information
Disclaimer
Privacy Statement
Copyright Information
Terms of Service
Cookie policy
↑ Back to top