by kenkessler550f on 01 January 2010 - 00:01
I'd like to wish almost everybody the best in the coming year. BEWARE OR ":LENNY" OR WILLIAM LEONARD:

December 28, 2009

Mr. William Leonard
7335 Herndon Road
Fairburn, Georgia 30213

Mr. Leonard:
Although you have been given prior notice by email, this letter is to make you aware that you have 30 days to return my dogs and any SV or AKC papers, signed over to me by you. pertaining to them to my representatives or I will have you arrested for conversation for theft. The dogs do not include Kelloggs vom Oasis or Jola vom Estahaus nor do I want the $8,000 which you have received from me previously for a ½ interest in them.

The dogs you are to return to me or my representative are:

1. Aslan vom Belle Amber
2. Saana vom Hauswalder Bach
3. Abby vom Schweizerhof
4. Ace vom Scheizerhof
5. Dixie vom Winnloh
6. Ornella van Noort
7. Grigory vom Merlin
8. Sam vom Silbersee
9. Any puppies from Saana (at least 2, maybe more)


Be forewarned, if all of the aforementioned dogs and papers are not returned, I will have you arrested and I will go after your AKC judges license and your AKC, SV. WDA, and USA ownership and breeding rights.


Sincerely,


Kenneth W. Kessler




by sea3 on 01 January 2010 - 20:01
I too had a negative experience with William Leonard. He operates a business called Estahaus which can be found on the web at www.estahaus.com.

I purchased a male German Shepherd puppy in March 2009 to serve as a family pet. The puppy was sired by Kellogs von Oasis. The dam is Agnes von der Malchower Aue.

The litter was born on January 24, 2009 per the bill of sale provided by William Leonard.

The Auburn University College of Veterinary Medicine diagnosed the dog at approximately 23 weeks of age with:
1. Severe hip dyslplasia in both hips with associated advanced degenerative joint disease.
2. Fragmented coranoid process of the right and left elbow.
3. An incompletely formed left shoulder joint.

I contacted William Leonard by phone about these conditions. He told me that it was impossible for a dog from his breeding program to have these conditions. He then accused me of abusing the dog. I explained that a vet with 25 plus years of experience who teaches at Auburn University had diagnosed the dog with these congenital conditions. He responded that the vet was only motivated by money and had "never bred a dog in his life". I subsequently mailed Bill Leonard the diagnosis and paperwork from Auburn as well as the contact information for the vet. Per our agreement, hip dysplasia was cause for a partial refund. Bill eventually sent me a letter offering to refund half of the money I had paid. However, to date, I have not received a penny from Bill Leonard.

Based upon my experience with Bill Leonard's arrogance and dishonesty, I would not recommend him or Estahaus to people like me who are seeking a healthy family pet.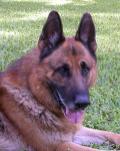 by Rukhaven on 04 January 2010 - 19:01
Ah, Bill Leonard.....
Many years ago I bought a "show" male puppy from Bill. The puppy arrived ill, absolutely terrified of everything, and was missing a testicle. As I had bought the puppy to show, and wanted to title in Schutzhund, I returned him before the contract deadline of 3 working days. The stories he told me! He was broke - if I could wait until the weekend, he was doing a breeding, would get a stud fee and promised he would return my money the week after. A month went by - another story. Three months went by - another story. Then Bill quit returning my calls and emails and wouldn't sign for my registered letters. Six months went by. I contacted the AKC, thinking that surely they didn't know that one of their honorable judges was misleading and lying to people, but "regretfully" the AKC "could do nothing." I contacted the State's Attorney and was told that I would have to hire a lawyer in the state Bill lived in, which was then New York. So I hired a lawyer, and the good lawyer put a lien on both the sire and dam of the puppy I returned, Bill's home, his airplane, and his business assets. It took another year, but I finally got my money back.
Moral of the Story:
1) IF YOU HAVE DONE BUSINESS WITH BILL LEONARD, HIRE A LAWYER.
2) IF YOU ARE CONSIDERING DOING BUSINESS WITH BILL LEONARD, RUN, RUN, RUN.

(NO, BILL, I HAVE NOT FORGOTTEN.)
Andrea Jackson
Jacksonville, FL

by ILMD on 08 January 2010 - 14:01
Good to see information like this getting out. Maybe it will save someone a lot of grief.

I was in contact with "Lenny" about a young adult for show. When he told me that the dog had not been x-rayed and that there was no reason to x-ray a dog from his breeding, I realized pretty quickly that I was not dealing with an ethical breeder and dropped the deal.

He has a nice web site and some impressive dogs. Too bad he has no integrity.

Kenneth, hope you can get your dogs back.
You must be logged in to reply to posts
---
---
---
---
Contact information
Disclaimer
Privacy Statement
Copyright Information
Terms of Service
Cookie policy
↑ Back to top