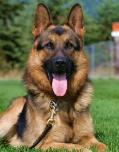 by mike hedi on 20 October 2009 - 01:10
by B.Andersen on 20 October 2009 - 01:10
A1 is A Normal A2 is A Fast Normal A3 is Noch Zuglassen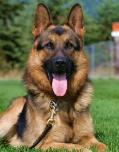 by mike hedi on 20 October 2009 - 01:10
THANK YOU FOR THE ANSWER b.anderson

by Bob-O on 20 October 2009 - 01:10
Mike, the rating of "a" Normal, meaning "normal" is the same as a1. This is followed by "a" fast Normal (a2) which means "nearly normal" and finally by "a" noch Zugelassen (a3) which means "still certifiable". The S.V.'s rating system for elbows follows the same scheme. It is perhaps important to note that a slim majority of GSD's score as "a" Normal.

You did not ask - but I will say it anyway. The hip rating of an individual dog is important, but is only a part of the total package. Of great importance is the ZW (Zuchwert, or breed-worthiness) number earned by that dog as it reflects how his ancestors/siblings/other close relatives have fared with their individual hip quality. I will keep it short as it requires much typing to explain exactly how the ZW system works.

In short, the mean value for the ZW is 100. Dogs who score higher than 100 are at a higher risk to produce hip dysplasie, and dogs who score less than 100 are at a lower risk to produce hip dysplasie. The average of the sum of the ZW's for a breeding pair can not exceed 100. In other words, one could breed a male with a ZW 110 to a female who has a ZW that is not greater than 90, or of course vice-versa.

Provided the hips of both parents are evaluated by the S.V. and ZW numbers assigned to each; the offspring begin life with a ZW that is essentially the average of the parents. This number will remain the same, unless the offspring show better or worse hip quality than the parents when they are examined. If they "improve" their number may drop very slightly, but if they "worsen" their number will rise slightly. If one is found to be dysplastic then the numbers can rise significantly. I am just using the parents and offspring as an example, but in reality all close and scored relatives affect the ZW for a dog.

Lastly, you may see a hip rating of "Zuerkannt" on older pedigrees. This shows that the hips passed the S.V.'s evaluation, but did so before the S.V. adopted the "a" stamp rating system that defined the quality of hips. This is similar to the years past when O.F.A. assigned "Normal" as their passing score, and later developed the grades of "Excellent", "Good", and "Fair".

This is essentially a brief explanation of what can be a lengthy subject to express in detail.

Best Regards,
Bob-O

(edited last sentence of first paragraph; replaced "a" fast Normal with "a" Normal)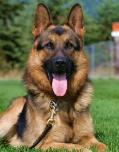 by mike hedi on 20 October 2009 - 01:10
Thank you BOB you are the best.
by SitasMom on 20 October 2009 - 01:10
by Visitor on 20 October 2009 - 02:10
Thanks Bob O. you explained things really well.
by TopDogs on 20 October 2009 - 03:10
Interesting. I did not realize that about 25% fast normal results is considered a 'slim majority' over the nearly 60% normal results

by Justk9s on 20 October 2009 - 04:10
I am not sure that I agree with OFA's chart.

I imported a female from Germany. She was rated Fast Normal hips. I was concerned when I saw that chart. I purchased her anyway and had her xrayed for OFA when she came. At 4 yrs of age, she recieved OFA-Good.

KIM

www.justk9s.com


by Louise M. Penery on 20 October 2009 - 09:10
There are other differences regarding the SV's HDZW system.

First, these SV x-rays are done on mostly 12-month-old dogs. In many cases (such as mentioned in an improvement from fast normal to OFA "good") that does not indicate a great inconsistency in the 2 systems. The fact is that a rapidly growing, immature dog x-rayed at a year (and receiving a fast normal rating) can indeed settle in with the greater maturity that comes with OFA x-rays (and be rated as OFA "good") at 24 months or later.

However, something is definitely fishy when one sees an NZ-rated dog (imported to the USA and not known for producing good hips) receive and OFA rating of "excellent".

One must also understand that the SV's system is often skewed and weighted for German dogs against "auslander" dogs by assigning the latter dogs higher ZW scores.

OTH, I have a male (now 11 years old) with a ZW score of 77. When bred to a female with a ZW score of 76, he has produced a daughter (yet to be bred) with an HDZW score of 73. I don't know how that is possible.


You must be logged in to reply to posts
---
---
---
---
Contact information
Disclaimer
Privacy Statement
Copyright Information
Terms of Service
Cookie policy
↑ Back to top