by msdraglox on 19 February 2009 - 01:02
Hi all,
I have a 11 month german sheperd mix puppy. She is approx 50lbs and I am making the switch from Royal Canin Large breed puppy to Orijen 6 fresh fish because I feel the food quality of Orijen is much better. I was wondering how others felt about Orijen dog food and how much I should feed her. The bag says for her weight to feed between 1 and 3/4 to 2 and 3/4 cups depending on activity level. Currently on royal canin she gets 4 cups a day. Can people give me an idea of how much they feed their dogs, giving the dogs weight along with amount of food would be great. Thanks

by VonKohlenBerg on 19 February 2009 - 03:02
Orijen is the best, I love my dogs on it. From Royal Canin to Orijen will be a big step up in quality. All of my dogs are different, my female gsd gets 2 cups she weighs about 60 lb, my older malinois gets 4 cups he weighs about 65lb, and my other malinois gets 3 cups and weighs 70lbs. I never go by what the bag says to feed, I go by the dog. I start at 3 cups and if the dog gets to skinny then I add a cup, if the dog starts to put on weight take a cup away.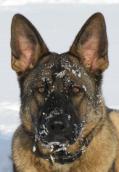 by RacingQH on 19 February 2009 - 19:02
It would take a little more than 3 cups a day of the Orijen 6 fish to give her the same number of calories a day she is getting on the RC. On the RC she is getting 1460 calories a day. On the Orijen, 3 cups would be 1449 calories. That is where I would start.
by DukeAloha on 19 February 2009 - 19:02
I feed mine RC GS24 2 cups in the morning and in the afternoon Wellness Core Original 2cups
supplement: Olewo 2oz. + Barlean's flaxseed oil for dog 1tsp
1Tbsp of Missing Link Plus
Never had a problem yet on stool consistency nor turning his nose against it.

by msdraglox on 23 February 2009 - 23:02
thanks guys. I am going to start with 2 cups a day and adjust accordingly.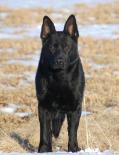 by Jenni78 on 23 February 2009 - 23:02
WATCH that fast a switch from something as grain-heavy as RC to Orijen. You are begging for a case of the runs. Feed one cup in the am and one in the pm for a few days, then build up to 1.5 cups, then 2 or whatever.
by msdraglox on 25 February 2009 - 19:02
So over the past 2 weeks I have progressively switched my pup from royal canin to orijen and wow she scarfs her food down. We are currently doing 1 cup orijen in morning and 1 cup in the afternoon. I notice now that she is trying to eat everything she sees outside grass, twigs(which is normal for her), and today another dogs poo... :( Should I up her food or is she not getting enough nutrition (as someone once told me and is trying to supplement it with poo).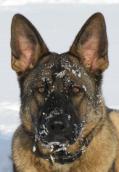 by RacingQH on 26 February 2009 - 01:02
So she is only getting 2 cups of food a day TOTAL? If that is the case, I would feed her more. That is only half as much as she WAS getting. She probably feels like she is starving. To get the same calories as she was getting before it would take a ltiile more than 3 cups of Orijen. I would imagine she will start looseing weight if she isn't given more food.
by msdraglox on 27 February 2009 - 00:02
Thanks for the food tip. She is currently getting 2 cups of orijen and 1 cup of royal canin a day. She is not the typical active GSD she is very laid back and calm so the vet said that I should feed her less than normal dogs would get. Currently since the poo tasting incident she is battling diarrhea so I am going to watch her weight and water intake closely for the next few days. Once I make the switch completely over to orijen I plan on doing raw for her at night and orijen for morning. what do you all think??
You must be logged in to reply to posts
---
---
---
---
Contact information
Disclaimer
Privacy Statement
Copyright Information
Terms of Service
Cookie policy
↑ Back to top