by SitasMom on 31 January 2009 - 00:01
All puppies should be like your little female, beautiful, intune, intelligent and will hit a rag in a heart beat, and sadly so few are.........if you sell her you will regret it for the rest of your life.............Good for you - God was smiling at you when he gave you such a puppy!
by Walt on 31 January 2009 - 00:01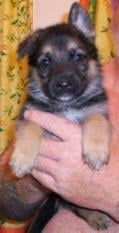 by Uber Land on 31 January 2009 - 01:01
I was a little late going outside to feed them this afternoon, and boy they let me have it! They were latched on to my legs, growling and just telling me about the horrible time they had outside. the middle female is a monster! her mouth is constantly snapping open and closed, God help what she latches on too, as she doesn't let go, and she bites down as hard as she can. You pick her up, she's biting your shirt, your arms, your chin, doesn't matter. I have to carry her in one arm as my free hand has a hold of her collar holding her head away from my face! She's a little beast! no fear either which makes her 10x's worse
by Wildmoor on 31 January 2009 - 01:01

by wuzzup on 31 January 2009 - 01:01
So true, not all show dogs have been watered down just for the ring.There are some very nice show dogs that still have good form and brains.Bullinger breeds some well rounded dogs .I have seen a lot of ads on here lately with very nice looking show dogs,not at all hock walkers.
by SitasMom on 31 January 2009 - 01:01
looks like there's plenty of show lines that have workability.

anyone out there do any herding with show line dogs?

what about agility?

by neohaus on 31 January 2009 - 02:01
I have a truly amazing male that is linebred on Mark and Jeck. He is a true working dog...all judges, and helpers, here and abroad have commented on his work ethic and his hits. He is clear and rock solid and passes this on to his progeny. There are NO weak nerves, no weak anything in this boy.

And I do believe Santo is a great male also. I have bred my female to him and hope to get awesome results like I did with my other male (who is out of this same female).

Watch for him at this year's Sieger Show....
by Sam1427 on 31 January 2009 - 03:01
Showline dogs that can work: most Kirschental dogs, Ulk von Arlett (RIP), Ursus von Batu (RIP), Hill von Farbenspiel, Andrjuscha van Noort, Panjo von Kirschental ...just off the top of my head.

by Sieger-Haus on 31 January 2009 - 04:01
Laius vom Moorbeck 2x WUSV participant and was V16 in 2002 German Sieger Show and VA1 Canadian Sieger. Once in a blue moon you get an exceptional showline that can beat the craps out of most of workinglines.
http://www.pedigreedatabase.com/gsd/pedigree/51528.html
You must be logged in to reply to posts
---
---
---
Contact information
Disclaimer
Privacy Statement
Copyright Information
Terms of Service
↑ Back to top