by HighDesertGSD on 25 November 2008 - 20:11
I have several Chinese Hackberry trees that have become prolific in recent couple of years. Birds like the berries and don't think they are toxic to birds.
I just realize that my GSD girl likes the berries. I have not noticed for a while that areas near the kennel is almost devoid of the berries. Yesterday I saw her in the act of eating them. May be they are actually good for her as a source of vitamins, but I swept away all as I moved her to another dog run, more secluded at the rear of my yard. My girl is a little strange in her taste for food, I think.
Do you gsd like fallen fruits? I also have peach trees, I worried that the toxin in the stones will harm my dog, but I have heard that a rather large quantity of peach stones needs to be ingested to cause problem, two or three would not cause any problem.
If you have many fruit trees, do you worry much?

by snajper69 on 25 November 2008 - 20:11
I don't have many fruit trees now but I used. I don't worry about it much, never seen a dog that would eat it so much to cause issues.
by malshep on 25 November 2008 - 21:11
My dogs are regular fruit bats. They love bananas, peaches, pears ( all store bought ) I do not plant anything in my yard that could be eaten at some point in time that would cause issues.

by yellowrose of Texas on 25 November 2008 - 21:11
Sorry folks , have to say Take Heed...there is danger from fruit on ground,,as you do not know how long it has been there. One of my clients had a beautiful black shepherd, from another breeder, who ate peaches in the field , outsid his yard. He saw her do it, thought nothing of it, and at 7:00pm the dog began to throw up and had the runs. He noticed blood immediately, lots of it. He put her in truck and rushed to vets office.
Clostridium Perfringens Type D , grows on old wood piles in yard, flowers beds, fruit on ground , and cows die of it, also..First dog this vet has seen with it in years..Usually cattle are the victims. Dog was put on life support for about 6 hours , never made it..This type D is fast and swift. Do some research about it.
Also many BERRIES are POISONOUS>>>> RED SAGE BERRIES, PRIVET BERRIES, WILD BLACK CHERRY, MISTLETOE BERRIES, GLACIER IVY BERRIES, CHINAERRY, ENGLISH HOLLY BERRIES, JERUSALEM CHERRY , AND CHERRY SEEDS OR PITS, SWEET PEA, ALMOND SEEDS, APRICOT SEEDS, APPLE SEEDS, BLACK EYED SUSAN-ALL PARTS, CHOKECHERRY -ALL PARTS, CASTOR BEAN -SEEDS AND LEAVES.. THIS is only a partial list.
YR
by HighDesertGSD on 25 November 2008 - 22:11
Pods of the Wysteria. They are not green beans.
I always puck the spent flowers so that there are no pods.

by yellowrose of Texas on 25 November 2008 - 23:11
Wisteria seeds and pods are poisonous..taken straight from the Poionous Plant list Puppy Wellness page 64 USA magazine 2006
YR

by yellowrose of Texas on 26 November 2008 - 00:11

by wuzzup on 26 November 2008 - 00:11
it's funny to see garlic on there as i hear many people give it to there dogs ,they claim it rids worms and fleas ? i myself always thought it was a not so true flea and wormer.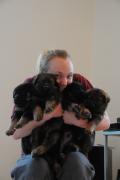 by dAWgESOME on 26 November 2008 - 00:11
I don't know anything about Hackberries, but my 2 GSDs and 1 Presa eat fallen apples to their hearts delight every year. Earlier this summer there was a thread going on about the toxicity of apple seeds and it had me a bit alarmed but to this day nothing worse then some wicked gas and slightly softer stools. I do my best to keep the fallen fruit off the ground but to be 100%about it all the time would be a full time job and just not realistic. YR's post has my ears perked so I'd advise that it's usually better to error on the side of caution, clean up the berries as best you can and try to keeps the dogs out of them.....

by AhSighEE on 26 November 2008 - 01:11
Appleseeds are poison if used in large amounts. You can kill your spouse or friends, with ground up seeds in their coffee or tea over a period of days, as it causes the capularies to do weird things and enters the heart and causes heart failure. It is usually not traceable as apples are not a chemical and I guess the know substances in the apple seed would be considered natural.
GARLIC IS OKAY, BUT THE PLANT LEAVES ARE.
You must be logged in to reply to posts
---
---
---
---
Contact information
Disclaimer
Privacy Statement
Copyright Information
Terms of Service
Cookie policy
↑ Back to top