by TheDogTrainer on 07 August 2008 - 19:08
http://www.veterinarypartner.com/Content.plx?A=595
"Other Parasites Covered
Ivermectin at the heartworm preventive dose is not strong enough to kill common intestinal parasites. Because of this fact, the dewormer pyrantel pamoate was added to cover hookworms and roundworms in the original Heartgard product. As other ivermectin-based products have entered the market, these have also added pyrantel pamoate to extend the spectrum of protection.

Whipworms are not covered by any of the ivermectin-containing products at this time, but in order to remain competitive in the market, manufacturers may pay for treatment for whipworm infections acquired while their product is administered. The products containing both ivermectin and pyrantel pamoate are Heartgard Plus®, Iverhart Plus®, and Tri-Heart Plus®. Iverhart Max® includes both pyrantel pamoate and praziquantel so as to cover tapeworms as well.
http://heartgard.us.merial.com/products/products_plus.asp
(Ifl you notice, Heartgard Plus contains both Ivermectin and Pyrantel.)
http://www.peteducation.com/article.cfm?cls=2&cat=1621&articleid=743
(This website has the ingredients listed in it. If the prevention only has Ivermectin in it, nothing but heartworms are covered. Only if it has pyrantel in it does it claim to get rid of hooks and rounds)
***********
As a side note, Heartgard is a post-prevention(not sure what the correct term is.). In other words, it works AFTER your dog has been bitten by an infested mesquito(Sp). The "preventatives" prevent adult heartworms by killing immature heartworms
There is also a phenomenon called the "Reach back effect." This means that if a dog goes off heartworm preventive medication for a prolonged period (four months was the time tested), re-starting ivermectin could still prevent adult heartworms from developing in the heart.
Ivermectin at the heartworm preventive dose is not strong enough to kill common intestinal parasites but it is available with pyrantel pamoate included (Heartgard30 PLUS) to control hookworms and roundworms.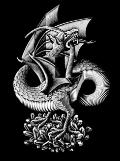 by Two Moons on 08 August 2008 - 03:08
Years ago when I first used Ivermectin its was for fox's, there were two kind's , injectable, one for swine and one for bovine.
Its was only used in very small dose's or risk permanent damage to internal organ's and reproductive system's.
It was supposed to kill anything that fed on blood, parasite's internal and external. It was expensive due to the size of the bottle's available from vet supply house.
The dosage is the key to its effectiveness. Too little no result's , too much and organ damage.
I stopped using the injectable. I'm using Interceptor now for heartworm's and have tried heartgard, I prefer the Interceptor and heard from a vet problem's with the effectivness of the heartgard.
I worm separately for hook, whip, and roundworm once per year in adult's and twice the first year with pup's.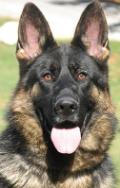 by katjo74 on 08 August 2008 - 06:08
Sentinel here, but still do a routine of Panacur just to make sure all is clean. :o)

by TheDogTrainer on 08 August 2008 - 12:08
I am a huge fan of Sentinal. I get it very well priced, because of the clinic where I work.
With Sentinal, you should not have to worm for anything---it covers intestinal parasites, including whip worms.
It also has the product that kills fleas. Which I really like.
I use Ivermectin if I have a rescue in with Mange----it is great for that. Ear mites too!
by Micky D on 08 August 2008 - 16:08
Panacur or Safeguard (fenbendazole) will easily, safely get rid of Whipworm. In addition, febantel (Drontal Plus®) is used, but not Droncit (praziquantel).

by windwalker18 on 08 August 2008 - 19:08
also NEVER use ivermec internally for cats as a wormer... I've used it to treat earmites, but dabbing a Qtip in the paste and painting the inside of the ears... but if injested can cause really horrible neurological problems in cats.
by Blitzen on 08 August 2008 - 19:08
I never routinely deworm adult dogs without having a fecal done first. Why feed them poison if they don't need it?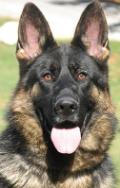 by katjo74 on 08 August 2008 - 20:08
Actually, Dog Trainer, I had a bitch have a fecal with ONE hookworm egg in her stool while on Sentinel.
Of course,considering what she was already on and that I'm used to seeing negative fecals, I flipped out. My vet explained it like this: these things are given as prevantative measures; but if by chance a dog is exposed directly to something, then there's no guarantee that the dog may not STILL pick it up-it's just to lessen the severity. Same with vaccinations; we have our dogs vaccinated in the hopes of preventing disease; but if directly exposed/in contact with such, the dog might come down with a light case of it anyhow, despite vaccinating. Made sense, but didn't exactly make me happy about it. They told me to consider and still do a Panacur worming every once in a while to make sure nothing has happened in the meanwhile. We've never had another showing of such in a fecal.

And yes, Ivermectin will react negatively with cats, and will react also with longer coated GSDs if you're not careful. Seen it both. My long-coat solid black male would get terribly SICK when he was given Heartgard, so we stopped it and switched to Sentinel. He didn't seem to mind the Sentinel.
You must be logged in to reply to posts
---
---
---
---
Contact information
Disclaimer
Privacy Statement
Copyright Information
Terms of Service
Cookie policy
↑ Back to top