This is a placeholder text
Group text
by Preston on 06 October 2004 - 06:10
Let's tell the truth about the SV once and for all. The SV has had a lot of major deficiencies and problems (ie slippage). It was extremely slow to act on the hip dysplasia problem in the first place, and only after it had reached crisis proportions and a large proportion of middle aged dogs showed a "hitch" in the rear off lead. Now we know that the SV has let elbow dysplasia and elbow DJD slide down the same slippery slope (or even worse). Approximately 25% of W.German bred dogs have elbow dysplasia, un-united anconeal process, or degenerative elbow disorder (DJD). The seriously affected ones (maybe 1/2 of that 25% develop swelling in an elbow, off-angled lower leg, or hitch moving in the front) and get culled out of the breeding pool. The rest, even though still bad are bred and considered normal. Thus the SV has knowingly allowed the GSD breed to proliferate with bad elbow recessives which will persist for many generations even after a rigid clean-up campaign starts for real. We also know that the SV can still be considered somewhat lax on hips since the A stamp is instituted at one year old. Any Xraying and certification before 2 years old cannot produce near the reliability statistically in diagnosing or reducing hip dysplasia in breedings. If the SV realy wanted to get rid of the "hitching" problem (front or rear)in their middle aged and older dogs once and for all, they would get serious about setting up a "RIGID" two year hip and elbow certification program. And speaking of other deficiencies, let's face it, the SV really doesn't care as much about correct movement as they would have you believe. Only gaiting at different speeds on a loose lead clearly displays the dog's actual quality and correctness of movement(and we know that off lead causes the dogs to hold back to stay with the handler, better but still deficient for displaying a dog's movement). Gaiting on a tight lead (like a draft animal) covers a lot of movement faults, balances the front and rear actions together and develops the wrong muscle conditioning for correct movement. And the SV seems to have forgotten about the standard calling for a straight back (no moderate or severe roaching allowed). Roach backs cause faulty drive transmission from the rear legs and is likely a persistant over-reaction to Rolf Onsnabruckerland longback/softback problems which almost ruined the breed in years past. Von Stephanitz would be very unhappy with the current SV practices in numerous areas. It's very hypocritical for the SV to cut hairs over Nero's progeny by enforcing the absolute "letter of the SV regs", when allowing so much slippage on elbows, hips, roach backs, faulty movement, poor show ring practices, and a deceptive lack of honesty of the true frequency of bad hips and elbows in W. German breeding. A logical solution any reasonable person would be to give each Nero progeny provisional approval and require a detailed elbow and shoulder Xray exam and certification for lifetime KK1. It is a fact that there are instances when very small bone chips can develop in the shoulder joint which are due to abnormal exercise/jumping stress and have not been proven to be herditary. When these chips are removed, normal front acton returns and stays (was this the surgery Nero had--if so it means nothing). The stubborn, old fashioned SV will not ever deal with these issues honestly because of the inertia they have in their subcultural system and the great economic losses that would occur, at least temporarily, to their world wide market for GSDs. If anyone wants to know about correct front movement ask Lenny or view the film of his new import on his web site. This man really understands what correct movement is. In spite of all these gross deficiencies, the GSD bred under the SV are still the best and most beautiful GSDs in the world. If the SV shaped up they could be even better and substantially so.
by Preston on 06 October 2004 - 06:10
SV DEFICIENCIES (CONT): One things for certain, the SV is going to seriously and perhaps unknowingly harm the GSD breed, SV show circuit and their world market by their blind stubbornness on the Nero issue. During times of world-wide terrorism, economic slowdown and uncertainty and rapid social cgange, it is beyond stupid to do such a thing to upset all the ethical folks who have Nero progeny that will be shown to be actually normal in the fronts and shown not to carry any more than the average number of genetic problems (all lines have them!).

by ZVZW on 06 October 2004 - 07:10
WOW this is too much,but I sit here wondering what about the poor guy whom bought VA5 NERO, he is in Taiwan now, right? I wonder how exactly this will affect him there? I mean this dog was owned by Messler himself,what does this say? Jerry
by Hunter on 06 October 2004 - 14:10
(Michele O say's)"Why is it ridiculous to find out if the dog still is in the same good condition and considered breeding material after two years????? Do we really need to cut further from the little that's asked to prove breeding suitability? Aside from the beauties we produce, we should remember that we SHOULD be breeding a working dog, when doing so, so why would a resurvey be a waste of time??? " Michele, many Countries (Denmark for e.g.:) that follow the SV scheme of Titling and Surveying their stock in order to deem them breed worthy only require one breed survey. They recognize that it is waste of time and in reality only another way for the parent organization to make money. I for one would feel much more secure, and put more stock in the fact that the stud I were to use on my bitch had his hips & elbows re-xrayed at an older age. If a dog has already titled and surveyed what significance in regards to the potential health of a litter will re-surveying play? All it will tell us is that the dog has continued to be worked. If a dog is actively training to look good at a re-survey it does absolutely nothing to insure health in it's progeny nor will the condition of the dog change the genetics of his/hers offspring. I say the money is more wisely spent on insuring better health. You can always go to your Club each week and work your dog if that's what you're into. I hope this clears up the point I was trying to make, a re-survey does nothing for the breed in weeding out the bad genetics, re-xraying our stock would make a significant impact and be a better use of our money.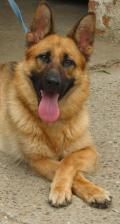 by SPARKY on 06 October 2004 - 15:10
Matin said Do your homework before you make such a statement. When it happened Nero was not a stud dog, he had no right to ever become one. When people used Nero he had an SV korung which makes him an approved male for breeding by the SV. It is not required to do elbows for this in Germany so maybe half the dogs in the world could have the same problem. Why just bann Nero's progeny,who knows if all the other SV approved males have good elbows.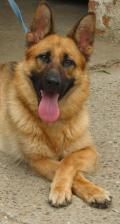 by SPARKY on 06 October 2004 - 15:10
In Taiwan there is no requirement for breeding and showing, so it will not have any effect on the dog there at all.
by From Shanghai on 11 October 2004 - 18:10
Mr. Solo, can we create an online petition? Let SV explain themselves for this decision?
---
---
Contact information
Disclaimer
Privacy Statement
Copyright Information
Terms of Service
Cookie policy
↑ Back to top