by yellowrose of Texas on 29 June 2007 - 04:06
How many of you have gsd' pups or adults with black spots on their tongues?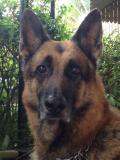 by Brittany on 29 June 2007 - 04:06
A friend of mine has a Rapi Supra granddaughter and she has big black spot on her tongue.

by VonIsengard on 29 June 2007 - 04:06
My first GSD did, and I know plenty who have them also.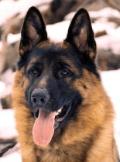 by VomFelsenHof on 29 June 2007 - 05:06
Three of my six have them. Have had pups with them as well. Had a buyer tell me they wanted their money back because since the tongue had black spots, their vet had told them the dog was part CHOW CHOW!! HAHAHA
I invited them out to look at the mother (who also had black on her tongue), inspect her tattoo in her ear and see the tattoo on the SV registration. I also asked for the number to their vet, and called and spoke with him to let him know he was giving incorrect information out. She ended up keeping the dog, and finding a new vet! ;)
by crhuerta on 29 June 2007 - 05:06
We also have several dogs with black spotted tongues......I think it adds "character" to their "smiles"!
by K91010 on 29 June 2007 - 05:06
wow my pup has a black spot
I was a little worried but glad to read this board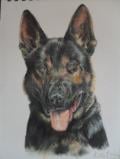 by 4pack on 29 June 2007 - 06:06
More than half of all of my dogs have had a spot on the tongue or in the mouth. It's not breed specific that I can tell. Mixes, dalmatian, lab, GSD's, huskies, pointers, spaniels and more. I hardly notice anymore and I don't buy into the rumor that it means better pigment.

by yellowrose of Texas on 29 June 2007 - 06:06
VomVelsenhof: I cant believe you had the exact same experience I had,,,,,,That is exactly why I posted this.....Last Mothers day I got a call from a lady in Dallas, has Hershey, her fabulous Blk/Red female, always bragging in hr, until her husband came home from work one night , and told her , that me, the breeder, had screwed them royall....that the black spots on her tongue proved that there was CHOW in their dog,,,,,three people in his office said Yes we heard that is where it comes from" So she had referred me to another man in Dallas who just got his male, and she took Hershey to his apt and showed him her female and He threw a walleyed fit and said Yikes , shes a crook , she is breeding german shepherds with CHOW in them.......he said on the AKC website, somewhere , is a statement that the "only two breeds in the USA that have black spots on their tongue are the CHOW and THe CHINESE CTS CREST CREST ??????never heard of it...as she quoted it may not be right spelling)", so she called me and said she was shocked that such a reputable lady, a christian, and done them wrong and wanted me reported to AKC , and on on on...I gave her Jane Steffenhagen and GInger Ravine;s phone numbers and even after she talked to both of them , she didnt believe them.....Jane told her she had over 3.000 dogs here in this country and probably 1,500, -or more of them have black spots on their tongues, and Chows have nothing to do with it.....It is a representation of pure dominant Black/red breeding of genes ,showing pigmentation in the mouth........Ginger Ravine said the same thing.....I told her to relay to the stupid man , that still owed me 300.00 on his pup he just got, and because he had two broken legs, I let him agree to mail me the final payment , as he just got out of hospital in Florida in a motorcross accident,,,,,I told him I would break both knee caps if he didnt quit spreading false facts and didnt get my money he owed me to me asapl......today I tell this tale and laugh at peoples ignorance and how they believe their Vet, who by the way , said the same thing........its most probable,he said that the Chow is in this dog , as that is the only dog with black on the tongue.....what a nut and I told her she'd better find her dog another vet......funny the same thing exact thing happened to you..........I love it.....now I can laugh more.....
Thanks for the spider , alert.....tooo,,,I forget they exist......got to remember....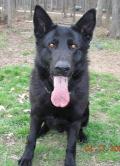 by Kelly M Shaw on 29 June 2007 - 12:06
I bred my female out to a male, and it was the first time I have ever had a puppy come out with 3 black spots on her tongue. I to was worried, because I want to get her involved with UKC showing. I asked a few different breeders about this and they both said that this is common and it will not effect her showing at all. I am very glad to hear more people have this also on their dog's, and I'm not the only one. Thanks for the post yellow rose of Texas!!!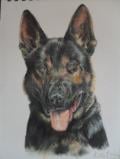 by 4pack on 29 June 2007 - 14:06
People still believe those stupid old wives tales? Yeah and a GSD is the only dog on the planet that can have a saddle. Dalmatians are the only dog that can have spots. Just ignorance. I cannot believe the vet said that. I'd be going top the next vet up the road! Like I said, I have sen so many GSD's with black spots on the mouth/tongue I barely notice anymore. If I remember correctly, out Malinois had a black spot too.
You must be logged in to reply to posts
---
---
---
---
Contact information
Disclaimer
Privacy Statement
Copyright Information
Terms of Service
Cookie policy
↑ Back to top