This is a placeholder text
Group text
by furpawsandtail on 29 July 2010 - 22:07
 Hi... I heard of this board and decided to check it out...

I wondered, do you think it's possible to train (and title) all breeds of dogs in schutzhund?

Okay so these are the breeds I personally have heard of in the spot.
- German Shepherd Dog
- Rottweiler
- Belgian Malinois
- Doberman Pinscher
- American Staffordshire Terrier

But what about these breeds? Is it possible? Likely? Why or why not?
- Australian Shepherd
- Border Collie


by MVF on 30 August 2010 - 04:08
I think some BC's could do schutzhund -- even leap the meter board and take a deep, firm bite on the sleeve.  Size is the
problem as a 40 lb dog is just not substantial enough to overpower a decoy very well; the dog may be working just as well as a great gsd, but the crowd would think it a cute demonstration.  On the other hand, some big aussies could probably make me take notice.  Btw, I have seen a lab earn SchH titles...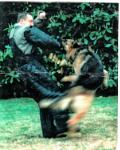 by blitzburg on 08 January 2011 - 12:01
Hi,

Many years ago I remember going to a SchH weekend just to get a taster of the requirements. There was a Border Collie,( apparently the only one with a Sch H qualification in UK at that time) there to give a demo.  I was very impressed with the dogs ability in all aspects.  Certainly deserved his qualifications. Sorrry so long ago I cannot remember dogs name or owner.
---
---
Contact information
Disclaimer
Privacy Statement
Copyright Information
Terms of Service
Cookie policy
↑ Back to top