This is a placeholder text
Group text

by Richie23 on 13 March 2012 - 02:03
I used to LOVE this database but people are getting on here and posting more than one dog I wish people would pay attention to what they are doing.... I have found two Dryden Joe's  same regs numbers just someone put a # in front of the name so they could register a new one! WTF
by SitasMom on 13 March 2012 - 02:03

email your favorite moderator with the links to duplicates and they will take care of it.......been doing it every time i notice it. its not such a big deal

by Richie23 on 13 March 2012 - 02:03
I know its not a big deal but it just puts a damper on things lol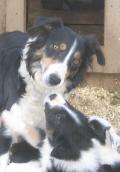 by bordergirl on 13 March 2012 - 02:03
I also have found that some one is not paying attention when entering information.  I have found several dogs recently listed on here that have been duplicated by the person adding a # in front of the name as well.  There are several errors in the pedigrees and they will no longer match properly. Many of these dogs like Ben 129820 all now have duplicate listings.  I can not continue to put my time in entering pedigrees if there are others who can get on here and distroy the accuracy and just keep duplicating the same dogs.  I am very disappointed and do not think I will be able to us this data base any longer. 

by DDRCzechFan on 13 March 2012 - 03:03
And so you find the difficulty in maintaining the integrity of a 'Free to Use' website...Because no-one pays to use this website or to add the pedigrees, ANYONE is allowed to enter them. You never know if it's a young kid doing it as a joke or because they were too lazy to search the dog first, ya never know the reason why people do this crap.

The thing that irritates me is when I enter MY OWN DOG'S info and so-and-so changes it. Either the picture, or the pedigree information, birthdate WHATEVER, it compromises integrity. It's virtually impossible for any amount of moderators to make sure pedigrees aren't being tampered with, because they would never really know if the original pedigree enterer or the person who editied it were actually correct in their information.

This website, while a useful tool, should never be a basis on purchasing a dog without seeing PAPER PROOF of a dog's Pedigree. I could enter any dog I wanted to, saying it was sired by such-and-such SchH 3, VA1, whoever and really my dog might be the offspring of two backyard dogs, ya know?

Just something to consider. I'm not defending the people who intentially screw with pedigrees on here, I'm just saying that no amount of mods would ever, 100% of the time be able to prevent people from changing them.
---
---
Contact information
Disclaimer
Privacy Statement
Copyright Information
Terms of Service
Cookie policy
↑ Back to top