by Sheryl B on 19 July 2018 - 16:07
hello everyone, I'd like to discuss the female's role in the over all outcome of a litter, from looks to temperament, to conformation. Everyone goes all gaga over VA male progeny, but I don't see people looking into the pedigree and accomplishment of the female. can you tell me your views?
by Gertrude Besserwisser on 19 July 2018 - 16:07
Those who know, know that the mother usually brings far more to the litter than the father. The reason people do not pay as much attention to the mother is that during her lifetime, she can have seven or eight litters. Hence there will be nor more than 60-70 offspring at most to look at as to quality. But the SV allows 60 matings a year within Germany and another 30 outside. That means, it is possible to see as many as hundreds of dogs which the father has sired and what he brings. for example father type, with many different mothers.

Hence, if a excellent male has say 30 breedings with different mothers, for example, and the litters are mostly high quality and exhibit his genotype traits, it is fair to assume that the father is prepotenting in bring his genotype.

As to phenotype or temperament, this is questionable. There are those who believe you can breed for temperament but there seems to be far less correlation and proof of this. One frequently hears, "oh the father or the mother did not bite so the puppies will be weak" or visa versa. But this mostly turns out to be wrong...

What a mother does, that is, how she mothers during the first 7 or 8 weeks are extremely important in determining behavior. That is not to say shy puppies are necessarily caused by mothering, but certainly many other behaviors are.

by susie on 19 July 2018 - 19:07
I guess anybody knowledgeable will agree that statistically sire and dam contribute 50% of their genetics to their offspring -
BUT
the embrios grow up in maternal, not paternal placenta, and the dam raises the new born puppies...A lot of direct influence.

Whenever I was looking for a new pup I chose a dam, afterwards I asked myself if the potentional sire fits my needs...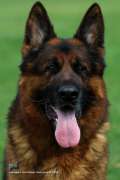 by jdiogoc on 19 July 2018 - 21:07
Hi Sheryl,

It's true that lots of people go gaga over Male progeny, and Gertrude gave a great reason for why this occurs, but if you talk to more knowledgeable people in the breeding world, you will see that a lot of attention is given to (great) females. There are lots of well known female lines, some of them I believe you could breed them to a duck and she would still have VA sons. If you look around everyone praises Jalmari vom Hühnegrab for example. There are even lots of dogs where their success is generally given to their mother and not father - a recent example is Larry vom Bierstadter Hof.

Cheers,
J


by old shatterhand on 20 July 2018 - 16:07
To me mother is much more impotent than the male. I would say 70% genetics comes from the mother. saying that don't expect top quality offspring if you don't have high quality female, no matter if you breed to VA dog or not. There are not many VA dogs which are producing pups in their type . Over the years I have seen many dogs outside the VA group which were producing better pups.
by momma on 23 July 2018 - 04:07
As my grey dog has now passed I am researching the show lines more for my next dog. I think too much attention is paid on the male and not enough on the female. I think that too many top males are just bred to any female for the stud fee without regard to the outcome. And less attention is paid to the longevity of the male, or the inherit genetic problems of the breeding. The mothers I think should be a major consideration also. But the biggest problem in the breed is the politics. Dogs that go VA are not necessarily the best dogs for the future but for the immediate return. And dogs placed highly at the local shows are not maybe the best dogs for the future of the breed but the best dogs to fill the pockets of the judges. Sadly, this is the reality of the breed.

by Sunsilver on 23 July 2018 - 07:07
Too true, Momma!

by Sheryl B on 23 July 2018 - 15:07
Thank you everyone, Its so sad that politics is the main driver, and not bettering our beloved breed.

by kitkat3478 on 25 July 2018 - 15:07
well Sheryl B, thats why its important to know who the breeder is. There still are breeders that do care what they produce and put time and effort into what they breed, and stand behind their dogs 100%.
Social Media has turned many into 'easy money breeders' with 99 percent clueless about even what line they are breeding, and more unbelievable is how many "experts" gather in one place to assist the uninformed seeking info and help, and are full of more useless information.
It's the blind leading the blind. I came in clearly blind, and still have much to learn.
You must be logged in to reply to posts
---
---
---
---
Contact information
Disclaimer
Privacy Statement
Copyright Information
Terms of Service
Cookie policy
↑ Back to top