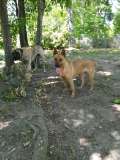 by Mollysmom2016 on 28 April 2016 - 01:04
Hi everyone, im new here and i just got what we believe is a Malinois or atleast a mix with mal in her. We have only had her for about 5 days now and we were told she is about a year and a half old. We will are going to do a DNA test to see what exactly she is, it doesnt matter to us if she is mixed or not, im just curious and it would help with training and health down the road. ill have some pictures posted. please no bashing. im simply seeking some advice. ive already had 2 different breeders/trainers who breed and train this breed and one said yeah she could be pure and the other said they werent to sure. thank you in advance.
i for some reason can not post a photo.
by hntrjmpr434 on 28 April 2016 - 02:04
A picture would be helpful ;-)
Don't waste your money on a DNA test. Friend of mine had his KNPV lined Mal tested for shits and giggles and he came back part cocker. They are known for being inaccurate.
Don't stress, if you like the dog, purebred or mix, it doesn't matter.

by Koots on 28 April 2016 - 04:04
Your training of this dog should not be influenced by what the dog may or may not be, but by the dog you have in front of you. That means train this dog the way that this dog needs to be trained.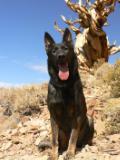 by Prager on 28 April 2016 - 16:04
Love and train your dog. Rest is just curiosity.
by joanro on 28 April 2016 - 17:04
Koots, I agree. The dog should determine the program.
---
---
Contact information
Disclaimer
Privacy Statement
Copyright Information
Terms of Service
Cookie policy
↑ Back to top