---
by JoePistone on 11 April 2012 - 09:04
Hey guys!
Alright this post...well I'm not too sure where to put this post but I figured this would be the best place. I got home from work yesterday and to my surprise. I have no idea how the puppy was able to climb our front gate area but he was there waiting by our front door. My family have no idea how he got there but he was there...starving and alone.
I'm trying to find him a home because our garden isn't really that big (and I am not a fan of leaving a dog outside all day long, especially in the Kuwaiti heat). I used to live in toronto and had 4 malamutes and my best friend here has a female west german shepherd dog. So you can see that I'm excited and I've taken good care of him but with my 8am to 5pm working hours and everything else considered I don't have time for this dog (unfortunately). I like to think of it as he's coming to rescue me rather than I am rescuing him. I just wish I could find a way to make it work. I am trying to find some help here but the dog market is tough. I can't even find ads for dog walkers to come during the day and maybe take him out to pee/poop.
So I am looking for his owners or potential people to adopt him. That is not why I'm posting though. Everyone has asked me "what breed is he? he's sooo cute" and I have no idea. First of all he's got to be around 10-12 weeks old so may be too young to tell exactly (I'm convinced he's mixed so that makes it even harder). I do see some Belgian Malinois in him, but those white paws have me puzzled.
Does anyone here have a mix that is similar to this fella that could probably shed some light on his genetics? I'm not too bothered about it, I love the little guy but I do know as an avid helper at the shelters here in Kuwait that people are more likely to adopt pure breds here and they like to know the dogs breed. With mixed dogs they can be very "attractive" to potential owners.
Here's a picture of him on the first day in my tiny garden area (by the pavement).
Could anyone possibly give me some direction as to what his breed is?
I'm pretty convinced that he's a malinois mix, but I'm not too familiar with the breed and their traits.
Thanks a bunch!!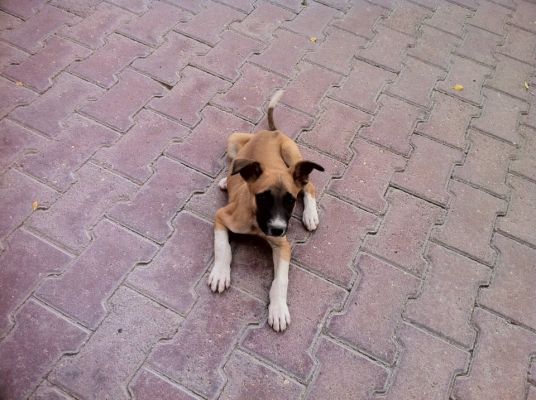 by JoePistone on 11 April 2012 - 10:04
Maybe this picture is better or more helpful to determine anything. I still haven't decided on his name, but I'll need to soon because I'm taking him to the vets office after work for a full checkup and they will probably ask me for his name to register it on their files. Any name suggestions are welcome. So far I like "red" and "luke". Red because it seems to suit him and "luke" because I can say "luke, I am your father". Hehe a bit of humor....oh and I like the name luke.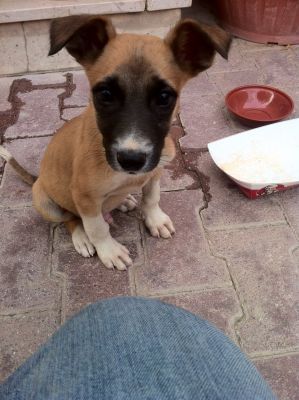 by RellikMalinois on 11 April 2012 - 11:04
looks like he could possibly be mal mix. maybe some boxer or pitty in there aswell. Hard to tell with pups, he looks alot like a dog my friend rescued. They have no idea what he is they call him a shep dane mix though. His name is "Tuna"
by JoePistone on 11 April 2012 - 12:04
What a cute fella! Tuna has such wonderful ears. I love when they stay floppy (even though most people despise the floppy ears). My friends West GSD controls the ears upon command. At a year and 3 months, the dog can get them up straight or make em floppy. Very attenae like!

This fella that I've found has white on the tail and on the paws. It's a long shot trying to figure it out now since he's still a puppy as you mentioned. But I'm thinking probably a boxer mal mix but you can never be too sure.

I am still finding a way to keep him if I can't find his owners. If not I might have to see if the shelter I help out in has any more space (they're always super packed) or if anyone I know could take him in.

He's got such a playful personality, and only barks at the stray cats that taunt him on our fence area. He's teething pretty hard but he's still a puppy so he's got his chew toys for now.

Hoping for a happy ending (no pun intended)!

by GSD4dogs on 11 April 2012 - 15:04
I would guess some great dane may be mixed in. How big is he?

I am glad he found someone who will make sure he is well cared for whether you decide to keep him or adopt him out. Your vet may have some ideas as well.


by JoePistone on 11 April 2012 - 19:04
Just got back from the vet. He put up an ADVERT/POSTER asking whether or not someone has lost this guy with my number on it. Hopefully, someone calls. It turns out that he's perfectly healthy. Only two issues which are easily resolved. He has worms, which we've just started treating today with the vet and a few ant bites on his belly that have cause some irritation but there is no infection or serious damage done. Just need to apply this sort of cream that will keep it clean and moisturized.
Thanks for the kind words. Yeah I've seen way too many strays and rescued many but our shelter is getting full. It breaks my heart seeing dogs out on the street like that. I'm a huge dog lover and I don't just stop at dogs. Anything alive really. I can't even kill a spider. I just don't feel right taking a life no matter how small (some ppl may find this silly but for me it's really important).
The vet says it's too young to really tell what kind of mix he potentially is but his best guess would be a shepherd/boxer or something of the sort. But he said, the dog can pretty much be anything until he's a bit older.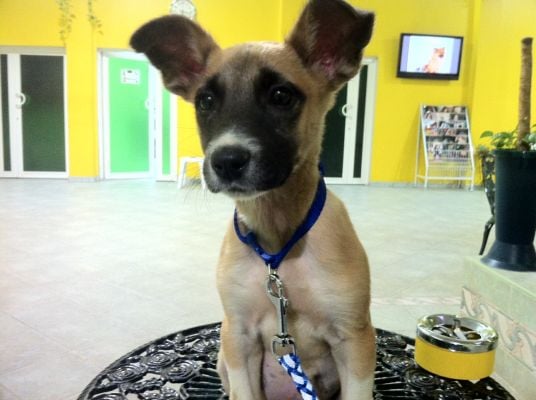 He liked the blue collar haha. I don't really use it just yet but I didn't want him roaming off at the vets office (some of the other dogs there were not very welcoming to this chap and considering his adventurous and "fearless" personality. I didn't want him roaming around).
EDIT: We are estimating him at about 12 weeks max and he weighs about 2.82kg Not sure if that is in character with great danes?
You must be logged in to reply to posts
---
---
---
Disclaimer
Privacy Statement
Copyright Information
Terms of Service