by lygsd on 13 April 2018 - 00:04
Any reputable long hair GSD breeders in the USA or out of the country?

Please don't get on to me about looking for a long hair GSD. I just think they are super beautiful. I know there are breeders out there that have them too.

Thanks!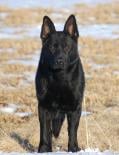 by Jenni78 on 13 April 2018 - 02:04
I know of a gorgeous one for sale right now w/excellent temperament. Nice pedigree, too. Owner is very nice. What is your budget? Are you wanting working lines or show lines? The one I'm thinking of is a working line female with super structure. EMAIL me (don't PM, hardly check them) if you are interested in the link. I don't know the dog personally but I have spoken with the owner. My email address is in my profile. Remember, MANY dogs produce coats even if they are not coated themselves. Don't need to look for a "long coat breeder" and I'd advise you don't ;)

by Dawulf on 13 April 2018 - 02:04
What are you looking for temperamentally? Are you planning to work the dog/do sport or active companion home?

I know of a few as well. Coaties are a dime a dozen, best to lay out what you really want in a dog, with aesthetics simply being a bonus! Nothing wrong with liking what you are stuck looking at for the next 10-15 years.
by lygsd on 13 April 2018 - 13:04
Looking for:

Active companion home (Would like to get into sport but not sure if my time will permit)
Strong nerves
Low energy as in I don't want a GSD bouncing off the wall (I understand that GSD's need lots of excercise but I want to be able to take my dog out in public and have it listen to me).

by Sunsilver on 13 April 2018 - 13:04
but I want to be able to take my dog out in public and have it listen to me).
This is more a matter of training than energy level. I've seen plenty of lap dogs out in public who totally ignore their owners, while my high drive working line GSD listens to me just fine!

by DuganVomEichenluft on 13 April 2018 - 14:04
I second Jenni78. I also recommend you email her. She, herself, is reputable and knowledgeable.
I, too, know several excellent breeders that are not long hair specific but end up having them from time to time. You can pm me here if you'd like references.

Brandi

by susie on 13 April 2018 - 19:04
Almost every showline litter is good for a coat - various, although not that much, working line litters, too.
A lot of breeders ( although not all of them ) who breed for coats ONLY tend to forget about all the other important stuff...

"Active companion home" - in case you REALLY are active ( like jogging, hiking, bicycle riding on a more than regular basis ) don't ask for "low" energy, but for a medium driven, stable pup.

Everything else = education.

by Dawulf on 14 April 2018 - 00:04
Also, where are you located?
by junkmail2014nov on 14 April 2018 - 03:04
I would be VERY, VERY careful if you have not purchased a pure bred before. Educate yourself. Go back and read any thread with "OCD puppy" in it. TAKE YOUR TIME. Look for a breeder who is reputable yes but learn what "reputable" means. Also too, just because a breeder once WAS a titled good breeder, doesn't necessarily mean they still are. In my case the information on the breeder was "reputable," as recent as 3-4 years ago, only to now find out there are issues.
by lygsd on 16 April 2018 - 19:04
Thank you all for your valuable input!

Currently located in NC, but I will be moving soon.

I am 2 years out from getting a GSD...still doing lots of research!
You must be logged in to reply to posts
---
---
---
---
Contact information
Disclaimer
Privacy Statement
Copyright Information
Terms of Service
Cookie policy
↑ Back to top