by xPyrotechnic on 02 May 2020 - 23:05
I would like to know what Gents temperment was and what traits did he produce and does he have any good notable progenies.

Thanks
by apple on 04 May 2020 - 06:05
He has been dead for close to 20 years, so any of his genetics are going to have little contribution to any current dogs. Congo Vikar was one of his sons. I have heard good and bad and that Congo was not much of a producer. I heard a story that a delivery truck came to the property were Congo was and the dog bit the tire and punctured it. No idea if that is true. I believe Gent was more of an old school Czech dog with high aggression and low prey drive and his son Congo was supposedly good for improving hips.
by ValK on 04 May 2020 - 22:05
like apple said - dog are dead for 20 years and very dubious his previous owner/s are participating in this forum.
according to his progeny tree on PDB entered "1,439 descendants in 3 generations", thus back then he was popular stud dog. most likely he had desirable traits, which perhaps expected to be recreated in his descendants.
albeit he was born in Czechoslovakia, in his appearance he is clearly a well preserved type of DDR - thick boned sturdy muscular constitution, strong neck, powerful muzzle with heavy strong lower jaw.
Pictures of progenies for V Gent od Policie quite obvious he was potent producer. don't know temperamental side but at least in first generation there was good looking descendants. sadly from pictures of second generation become obvious chaotical approach in mating selection and clearly can be seen decline in physical appearance of dogs - lost of bone and muscular mass, significantly more lightweight and weaker structure. maybe someday in some litter his genes will produce Gent II but odds very-very slim and even if that happens, most likely it will be wasted as with this particular Gent back in 90's.
by xPyrotechnic on 04 May 2020 - 22:05
thanks for the infos i asked beacuse in another thread years ago about carly policia-slovakia someone asked the same question but got no response
by duke1965 on 05 May 2020 - 01:05
obviously, even with that many offspring, no noticable dogs came out of him that carried on his name, possibly because many females he bred where west german, the most good dogs I see and saw from west/czech combinations are motherline of old czech dogs, bred to west male
@Valk, the second generation loosing similarity is normal, as the level of outcrossing that is done it will be hard to maintain anything, these Gent/west crosses should ideally be bred back to Gent line or similar line to at least preserve something of what they started with

by emoryg on 05 May 2020 - 07:05
Xpyro, Gent produced nicely for the LE community. Most of the dogs I recall were dual purpose.
Unfortunately, Gent was contributing in an era where cargo hulls of aircraft were full of dogs coming out of that region, destination USA.. One kennel alone brought over 500-750 dogs a year. Most of these were higher quality dogs that were needed to fit into that organization's training program. After 9-11 it was around 1000. Depleted numbers saw a big increase in other breeds for LE and the like.
Gent, like the majority of studs able to produce for law enforcement, would see most of his stronger progeny coming to the States. If they went to LE they were owned by the government which wiped out almost any chance of reproducing. The other dogs who would go into the civilian population would suffer considerably from American breeding methodology. This for the most part is considered a failure throughout the rest of the world. There were such quality dogs being imported, that breeders in Europe were commenting that one day they would be looking to the States for their working stock. That never happened. Occasionally there would be a line that would maintain a few generations, but this was rare and often just by chance, luck of the draw or the numbers game was working in their favor.
by ValK on 05 May 2020 - 10:05
Gent/west crosses should ideally be bred back to Gent line or similar line to at least preserve something of what they started with


why one in right mind, would be complicating like this if much easier and better to keep uniformity in first place from very behining?
Gep z Pohranicni Straze
Era Gaja Nova
was a second generation and as can be seen did retained initial phenotype.

by emoryg on 06 May 2020 - 15:05
Here's the owner of one of those early import kennels I mentioned. Ken is not only a good guy, he's a legend among police dog trainers around the world.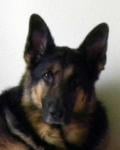 by Mindhunt on 06 May 2020 - 20:05
If it is the same Gent that is on my Ronin's pedigree, Gent was born in 1992. I have a copy of Gent's original pedigree when I got a hold of my 5-month-old Ronin's breeder who sold him to a family who gave him up because they could not handle him (dad abused, and oldest son actually tortured Ronin for 5 months). I got Ronin at 5 months old. Ronin was a handful, extremely intelligent, fearless (except for thunderstorms), driven, stubborn, and an absolute sweetheart with not a mean bone in his body despite his early torture. He was a once in a lifetime dog.
He was terrified and shut down when I got him, wouldn't even play. But once he saw my Loki training (Loki has Jara, Gent's litter sister in his lineage), he blossomed and there was no holding him back. He was AMAZING and if Gent was anything like him, his progeny must be astounding as well. I could go on about my Freak of Nature sweetheart forever, but I won't bore you all. The lineage is long-lived and healthy, Ronin lived until 16 years old when his early torture finally caught up with him and his brave body quit.
by zarro999 on 15 June 2020 - 19:06
I have a 2 year old grandson of Congo Vikar. He is great! Excellent prey drive and defense drives.
Training him for his IPO titles and the Nationals. Strong powerful dog with a great structure.
You can see his videos on YouTube, type in on YouTube: "Hunter Working On The Hold & Bark and Outs (Protection)."

---
---
Contact information
Disclaimer
Privacy Statement
Copyright Information
Terms of Service
Cookie policy
↑ Back to top