This is a placeholder text
Group text
by Pirschgang on 29 September 2021 - 09:09
Thanks for the info.
by txarkoeta on 29 September 2021 - 16:09
Mike, but ... who was the mother of Bolle's son? Who was the mother of Extrem's son? It is good to have information, the more the better, but you have to take into account very, very much, more than the father you have to take into account the mother
by Mike Delaney on 01 October 2021 - 09:10
txarkoeta,

yes I know-that's why in stated that I knew nothing about the females-my way of indicating that the females may have been great or may have been crap.

Mike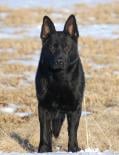 by Jenni78 on 02 October 2021 - 18:10
I own this dog: Amey
I did not own her mother, but I know her owner. I did own her maternal granddam, Beauty Krasnoocko, and bred a couple generations from her. So, in that sense, I can see things I know Beauty produced in Amey and I also see things that presumably came from Extreme. What I have seen/heard coming from Extreme are sizing can be all over the place, and this has come true in my experience. Amey has offspring that are huge and some that are compact like she is. Amey has nice aggression, but not as high as her grandmother, and is more prey-driven than her dam line, in general, also. I see what I call "twitchiness" in Amey- an intensity in the drive more like a Mal than a GSD and I credit (or blame) Extreme with that. Amey doesn't have the ability to settle as well as her grandma did, but she had a horrible foundation, too. Amey is sportier than her dam or granddam, but also more controllable. I can call Amey off another dog or person or whatever much easier than her grandma. She is also easier around other dogs in general. Not as dominant. She's possessive, but she isn't looking for fights. Absolutely some of the best mothers I have ever witnessed- both of them. Amey's twitchiness scares people, especially children, sometimes, as everything about her energy is just fast and intense. Even her mannerisms are more Mal-like than typical GSD. Looking at Extreme's sport resume, I would guess this extreme energy and intensity played a role in his success. There is an Amey son by V Madox von der Emsaue in a club that the TDs call "worse than a Malinois." He's a really powerful male who is hard to handle. People admire him but don't want to own him. Off the field, he's a super nice dog to have around; he's just a powerhouse to handle in sport. 
I didn't buy Amey for her famous sire. I bought her because of her grandmother, and her breeder wouldn't sell me her mother. 
by Pirschgang on 15 October 2021 - 12:10
---
---
Contact information
Disclaimer
Privacy Statement
Copyright Information
Terms of Service
Cookie policy
↑ Back to top