by susie on 29 August 2018 - 19:08
In case the OP is still following this thread: I took a look at the pedigree links you gave us. Your dog is the offspring of dogs out of a lot of European countries/bloodlines/show/working.
Without parents no choice to find a "goal" in this breeding, but the grandparents already don't seem to have been choosen by certain criterias.
Can't have been conformation, may not have been working ability.
I guess (!) it was "breeding two dogs of the same breed", just because they were available...
All of this doesn't tell us anything about the working ability of your pup, but I guess (at least hope) even a first time dog owner is intelligent enough to see the difference between fear and protectiveness in a dog/puppy.

The more insecureness the more important wiĺl be structure/routine.
Obedience = distraction from the source of fear + security, based on learned patterns.

A genetically sound puppy should overcome the (important) lack of socialisation during weeks 7 -12, a genetically fearful pup will have major problems,
but well trained even the genetically fearful pup may be able to protect you (bark, bite on low distance, at home, on leash) later on - depends on you and your training.
That's by far not as much as a genetically sound dog will be able to do (again:with proper training), but normally good enough for normal life...

Right now I'd concentrate on building leadership, making the pup believe nothing horrible can happen with me, the owner, at the end of the leash.
Structure and success, no bad surprises for the next couples of months...

Good luck! In case you like your pup it's worth the effort.




by astrovan2487 on 29 August 2018 - 19:08
I second not doing a puppy socialization class. If you work with a good trainer they should be able to work on dog socialization in a controlled environment until he gets better.

You are doing a good job as a first time dog owner trying to educate yourself. I think it's extremely important to find a good experienced trainer that you trust and stick with their training program. (Maybe the trainer you have already fits that)
by ssimmons72779 on 30 August 2018 - 15:08
I am new to looking at pedigrees and I am trying to determine what lines my dogs descend from (if west german, Czech, etc)... Any help would be greatly appreciated.

http://www.pedigreedatabase.com/german_shepherd_dog/dog.html?id=2463582-cato-vom-wernerhaus

http://www.pedigreedatabase.com/german_shepherd_dog/dog.html?id=2789446-rose-vom-zelig-brandonhaus


by 1Ruger1 on 10 September 2018 - 01:09
Meantforme~ hoping everything is turning out ok. Hope to hear soon!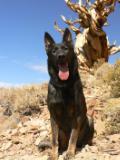 by Prager on 11 September 2018 - 01:09
@jillmissal. excellent post!!!! ( page 1)

by Al Bravo on 11 September 2018 - 16:09
Your pup goes through a fear period from 12-14 weeks, after that they should mellow out and show some type of confidence especially if you've had him out at different environments. It would be nice to know some more on his pedigree. It could be a trait that was passed on from the Sire or Damn.
---
---
Contact information
Disclaimer
Privacy Statement
Copyright Information
Terms of Service
Cookie policy
↑ Back to top