This is a placeholder text
Group text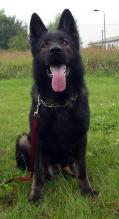 by anton on 08 August 2008 - 00:08
QUENN or VEGAS. Its a tough one.
I would love to see TOR DI CASA NOBILI place high if he is there. Great producer!!!
Best Wishes To All
by titbit on 08 August 2008 - 07:08
I agree with Neohaus,
color is least important, what matters in today's day is the temperament and the strength the dog can give. Djenges is a good dog and I like him personally but then to have a strong progeny from him I doubt, may be cos of Maffy. They are good female producers. The male lacks a little strength.
Still he should be place high in case he has a good progeny. i am not sure about that.
Vegas is the best conformation dog at present but as said by someone in earlier posts that this progeny also has some weaknesses due to BAX line through Pakros
[don't know y he was made sieger / Quenn should have been sieger last yr only ]
I would like to see some good V dogs come up to the VA as that will make more sense and the dogs like V15 Ghandi to be used for their strengths.
Today the GSD are lacking many major things like strength and muscle count and bones. Temperament should be the foremost concern for the breed as that will make the dog work for a longer period despite of some anatomical faults.

by JOZOLLI on 08 August 2008 - 08:08
Quenn for me!  and rightly so.  This is the producer.  And sound, solid dogs - hips, elbows, ears, colours - there are no horror stories from the quenn users!
Vegas produces top females - as his father managed too.... a worthy VA2.
Negus should make the VA group.  Will Furbo without progeny? 
Furbo - if he is shown as he should be will be a future Sieger - the dog is sooooooooooooooooo good.
Some of the top boys last year were 'unusual' placings...... this year Herr Meyer will consolidate his group and outline his way forward.  Agassi if he comes will do well.  And Odins progeny will carry him on a few places, but I would be surprised to see Dux there.
In females I hope Gloria Valtenburg and Pola Zenteiche do so well that Hannibal MUST come to stud again in Germany, he has so much to offer.
---
---
Contact information
Disclaimer
Privacy Statement
Copyright Information
Terms of Service
Cookie policy
↑ Back to top