This is a placeholder text
Group text
by sitstay on 02 January 2022 - 16:01
Hello Everyone,

I have been a member here for years and don't think I have ever posted before. I am on my third GSD. He is currently 10 months old. He is my first WL dog.

I know nothing about WL pedigrees. I purchased from this particular breeder because I have met and really liked her pups as adult dogs.

Here is a link:
https://www.pedigreedatabase.com/german_shepherd_dog/breeding.result?father=484971&mother=2660167

Anybody want to talk about what these lines mean, both as a combination and singularly?
Sheilah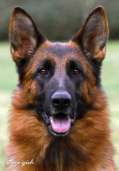 by bea on 04 January 2022 - 11:01
your dog is by Karlos von der Kinzigau, Karlos was born 2002. Was the breeding done with frozen semen?

by Sunsilver on 04 January 2022 - 11:01
Is this your boy: https://www.pedigreedatabase.com/german_shepherd_dog/dog.html?id=3097538-bachneusohns-treu-drache?_v=20210930124258
I can't comment specifically, as I don't know the dogs close up in the pedigree, but it looks like a nice working line pedigree. And Mom is a stunner! I love her conformation! She has excellent bone for a female - okay, maybe she even looks a bit 'doggy' - could pass for a male.
What are your plans for the dog? It's a nice , open pedigree, with very little linebreeding. I like that it's not chock-a-block with Fero and his descendants, the way so many recent working line pedigrees are. 
I don't see any red flags in the pedigree - dogs that are known to be handler or dog aggressive, or ones that are so hyper they have trouble capping their drive. But then again, I don't know many of the dogs in the pedigree.
We don't breed pedigrees, we breed dogs. The main thing is that you know this dog's parents, and think they are good working dogs.  Let's hope they produced that in their offspring. 
IF you have any specific questions about the pedigree, please ask.
---
---
Contact information
Disclaimer
Privacy Statement
Copyright Information
Terms of Service
Cookie policy
↑ Back to top