by Western Rider on 31 October 2017 - 04:10
He knows full well that YOU nor HE can remove this thread so him asking you to do so is him just stalling.
The only thing he can do to not look so bad is to make the deal right and we post that he did deliver what was promised.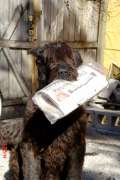 by Bodil on 01 November 2017 - 10:11
Wow am I glad i didn't fall for this guy's BS.
If interested - and someone tell me or give me a link as to how - I can post screenshots of pics and communication.
Bodil

by furryflurry on 01 November 2017 - 23:11
About 3 years ago we were inquiring about a female that he had for sale. He claimed that she was OFA Excellent, so when we couldn't find her in the database we questioned it. He never responded, and his Bonni suddenly didn't have a hip rating anymore. Too many red flags.
by hexe on 02 November 2017 - 01:11
Funny, for a guy whose ads claimed he was downsizing due to health issues, he sure seems to have restocked quickly if his FB page is accurate--it appears he just acquired a new stud dog and breeding bitch within the past 30 days, and he's got at least one litter on the way...


by fleetbreeze on 02 November 2017 - 03:11
Yes he is ripping a lot of people off. He told me he was selling his dogs because his house was flooded needed to get out of dogs for awhile. When questioned as to why are you now buying dogs again it was oh i buy for other people. Right!! By thw way no flood at what he claimed was his address.
by Idealgsd on 17 November 2017 - 16:11
Venny did you not get your money back from PayPal. I know this man he is not a crook I know he offered to you a pup and you agreed to that even after you got your cash back. He offered you another dog for just your deposit.
Where is that in this tail you are spinning. I have read his text from you partner.
Just saying
by Vinny B on 17 November 2017 - 21:11
Yes he is a crook, he is the King of Crooks and a thief, scammer. He didn't offer anything, back.
not even a pup and why would I trust him with anything he promised us an adult male, fake shipping date and he had sold the dog a few months prior and this was verified by the site administrator. He also kept our shipping fees, for a dog not received and he has scammed other pple too and we have the proof and police files/reports also. Are you him in disguise? and my name is not Venny?

How would you know anything unless he is a friend of yours. Please don't waste my time and know your facts prior to making any claims and/or statements

CHARLES DURAND and VOM HAUS DURAND is a thief, scammer, fraudster and many other things I can not repeat on line I'm just saying

by fleetbreeze on 17 November 2017 - 22:11
Yes he did offer us a replacement dog. Would not send a photo or anything. He said he would send said dog on nov. 3/17. That dog did not come. Then said he would send a pup at some point. Well i dont.see such a pup coming. He makes excuses as to why he did not send the dog. He had already sold buda when he took our money? You think that was a good thing to do? He took our money as well as i have heard he has also taken the money from a man in Ohio amd neber sent that dog either. Please do not trust this man. He told us he waz flooded and had to sell his dogs when a week later he is buying dogs from Serbia
Likely with the money from the dog the guy sent him from Ohio. And please he did not refund us our money paypal did. He still owes us basically a thousand that we sent via western union. Why not just send that money back? And the man in Ohio got nothing back as Charles had him send it walmart to walmart so no way to get it back. He is a conn artest or just a plain thief.
by NorthwindsGS on 18 November 2017 - 05:11
He also tried to sell me Buda after he was already sold and gone. He was clearly trying to sell dogs he no longer owned and use the money to buy more dogs from Serbia. We received the same sob story. He had to sell his dogs as his home was flooded and he had to move in with his sister. Yet within a short time of him staying this he had new dogs on his FB page. Guy is lowest of the low.
by ejohns10 on 20 November 2017 - 17:11
Has anyone tracked down where this guys lives and his contact info. Sounds like someone needs to go meet with the guy with the sheriff.
You must be logged in to reply to posts
---
---
---
---
Contact information
Disclaimer
Privacy Statement
Copyright Information
Terms of Service
Cookie policy
↑ Back to top