This is a placeholder text
Group text
by Steve1972 on 10 January 2023 - 12:01
I recently purchased a puppy that is said to be sired by Mondo di Casa Palomba. I do not have reservations as to wether this is true or not. I purchased this puppy with intentions of future breeding. When this time arrives I'd like to have certified documentation of this puppies parentage. Can anyone give me a pointer?
by GSDHeritage on 10 January 2023 - 14:01
You would need to contact the seller and request the pup be DNA back to the sire before purchase.  AKC in the USA does not require pups to be DNA'd back to sire of dam. 
by shivambhatele on 16 January 2023 - 11:01
DNA testing can be used to verify a puppy's sire. The process typically involves collecting DNA samples from the puppy, the alleged sire, and the dam, and then comparing the DNA profiles of the puppy and the alleged sire. The DNA samples can be collected using swabs of the inside of the cheek or by taking a small blood sample. Once the samples have been collected, they are sent to a laboratory for analysis. The laboratory will compare the DNA profiles of the puppy and the alleged sire to determine if they match. If they do match, it is highly likely that the alleged sire is the puppy's biological father. You can get more information about puppies and dogs from here: https://dtua.org/
by Steve1972 on 22 January 2023 - 16:01
To be more specific, how do I go about getting Mondo's DNA profile to have conspired to this puppy. The dam was bred out of country and sold to U.S. buyer. Pup was born in U.S. AKC registration shows Mondo as sire. Without DNA testing it can not be said for absolute certainty that VA1 Mondo di Casa Palomba is indeed the sire of this pup.
Mondo is an Italian dog. Often when looking at kennel websites or other websites like winsis.cat DNA is listed as "Gepr" or "Geprüft". I understand that this indicates "on file". winSiS-CAT.com shows this.
What I don't know is how to obtain a copy of Mondo's DNA profile to compare. Or is there a place I can send my pups sample for analysis and comparison? Ultimately what I would like to happen is myself having documentation from some organization verifying this pups lineage.
This is proving very difficult for me. This pup has dogs in her pedigree from different countries. Is there one place where I can find all of them?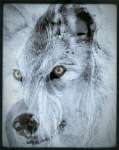 by Fantom76 on 22 January 2023 - 17:01
Geprüft = tested
Gelagert = on file

by Sunsilver on 23 January 2023 - 10:01
AKC in the USA does not require pups to be DNA'd back to sire of dam.

Really? When I purchased Star in 2007, her sire was a recent import from Poland. AKC insisted on a DNA test from him before they would register her litter. Due to delays in this process, it took me NINE MONTHS to get her registration papers!
by apple on 23 January 2023 - 11:01
I think it is only required on imports after AKC registration is obtained.
by Steve1972 on 04 February 2023 - 16:02
I also imported a working line GSD from Czech Republic. He came with Czech registration. I did not have to provide DNA testing to get him AKC registered. He has also sired 4 litters now. One of these litters with an outside bitch. No DNA testing has ever been required to register his offspring with AKC.

I did have to provide a DNA sample to AKC for them to obtain a DNA profile from him. It was not to prove lineage. I believe that it would be used to prove future registrations true or false.

I do know of a breeder who pairs his bitches with multiple studs during the same cycle. He conducts parental DNA testing on all pups to determine which pups were sired by which studs. Not saying that I condone this or not. It is just what he told me.

Basically this is what I want to do with my new female. If her sire were AKC registered it would be easy. I am certain that there is lots of Mondo di Casa Palomba DNA out there. I just need to know where to send a sample from my pup to have it analyzed and confirmed or proven false that Mondo sired this pup. Also with some sort of documentation from a governing organization stating that she is genetically tested to be sired by Mondo.

Any suggestions of an organization that would be able to do this for me?

by GSDHeritage on 04 February 2023 - 17:02
AKC registers Conditional dogs not proven to go back to a sire giving the dog a "Q" letter. Few generation later after DNA's AKC allows  the dog full registration papers with letter DN letters these dogs can never be a purebred GSD.
https://www.akc.org/breeder-programs/dna/dna-resource-center/frequently-used-sires-requirement-faqs/
What information does the DNA testing provide?
AKC DNA Profiling is for parentage verification and genetic identity purposes only. It does not provide information regarding genetic health, conformation, performance ability, coat color, etc. AKC DNA does not determine breed or if a dog is purebred.
by Steve1972 on 05 February 2023 - 15:02
Sounds like GSDheritage has the answer that I am looking for. I just need to be more specific with my needs.

What organization (organizations) has VA1 Mondo di Casa Palomba's DNA profile on file? Needs to be an organization that is able to analyze and verify said parentage to be Mondo or not.

I want to sample my pup and have verification that it was or was not sired by VA1 Mondo di Casa Palomba.

I am curious about The post by GSDHeritage pertaining to "Q" registration and later converting to a "DN" registration number. This makes some sense to me, where I get lost is "these dogs can never be purebred GSD". After DNA profile and parentage verification is complete, isn't the dog now proven to be pure breed? Isn't the purpose of AKC and any other similar organization to prove a dogs purity of a specific breed? So how can a proven purebred GSD never be a purebred GSD?
---
---
Contact information
Disclaimer
Privacy Statement
Copyright Information
Terms of Service
Cookie policy
↑ Back to top