by Oscar2019 on 23 January 2019 - 18:01
I've searched through the topics and haven't found any posts that answers my questions, so, sorry if I missed it.

I'm wanting to import a puppy from the Czech Republic and am having minimal luck trying to get transport companies to provide me a price...who do you recommend?

The breeder appears to be legit, has registered and has been in business for a while. They are asking for a Western Union payment. I will not do that until I have a contract and it seems that there would be cheaper ways to send money, such as wire transfers, etc. Please educate me on the accepted practices in doing this. I don't want to offend them nor do I want to get scammed.

Thank you,
by bladeedge on 23 January 2019 - 19:01
Do not worry about offending them stay polite and ask all the questions you want and all about payment method PayPal is a good one that iv used myself .iv also used Western Union no probs either and u have a foot print. Plenty of recipes and all notification when the money is picked up . If they are not comfortable with the questions you are asking use your gut instinct . Questions are what buid the relationship between seller and yourself I like to be asked as many questions the buyer wants . I also like to offer reference . Hope this helps .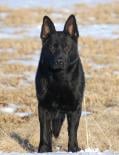 by Jenni78 on 24 January 2019 - 11:01
Hi Oscar,

Who is the breeder? Sometimes the smaller breeders aren't super familiar with shipping/export protocol. Sometimes they just don't want to go through the hassle. However, you don't have much choice, as almost none of the transport companies based there will respond to an American request for transport. The breeder/seller has to do it.

Petr Novotny has Petair, based in CZ, and I haven't checked recently, but there used to be a link on Jinopo's website for the transportation.

Personally, I've used R-CARGO out of Slovakia for almost all of my dogs from CZ, Slovakia, and one from Budapest. Miriam and Pavel are wonderful. But- they respond best to phone calls from local folks 🙂.

My concern with a breeder who doesn't know how to ship would be more about export pedigrees and such paperwork.

Regarding money, I always use Transferwise- WAY cheaper than Western Union and just as fast, 9 times out of ten. I think this link gives you a small discount: https://transferwise.com

Please feel free to contact me (email please) if you have any other questions.
---
---
Contact information
Disclaimer
Privacy Statement
Copyright Information
Terms of Service
Cookie policy
↑ Back to top