This is a placeholder text
Group text
by DanBar on 07 October 2021 - 16:10
Those of you who have actually imported young dogs from Europe, can you give me an idea of how long it should take to get the registration papers here in the USA?
I have imported five dogs in the past couple years and have been shocked at the amount of time it takes to get papers (Dobermans and German shepherd dog).
Say what you will about the AKC, at least they can get papers to you in a couple weeks. I've got four pups here one of which, a GSD from Germany will be a year old this month - and no papers yet. What happened to German efficiency!?!

I'm just curious if everyone else went through this? The importations have all been from different individuals so it seems to just be "the way it is". Is there something I can do to speed up the processes?

Thank you for your informational replies.
DJ
by Klossbruhe on 07 October 2021 - 20:10
Sometimes the fault lies with the breeder who does not submit the necessary paperwork to the SV. I had a situation where the SV would not allow the breeder to use the name given to the dog and breeder was SV judge who was constantly judging abroad and did not get around to submitting the paperwork on that dog until it was a year old.

Assuming the paperwork has been sent and a Bescheinigung issued, you should contact the SV office in Augsburg and find out for yourself just what is going on. In my experience that almost always focuses the attention of either the breeder or the SV office workers.

But even if everything is in order, it takes quite a while, at least 3 months.
by adlitas13 on 08 October 2021 - 22:10
I have had the same problem. I bought a GSD from Poland in May and another one from Serbia in April. I haven't gotten the paperwork for either as of today. That's five months! I was told that COVID has had something to do with it because the offices processing the paperwork were closed for extended periods of time but they are open now. I think some of the breeders are continuing to use it as an excuse.
by Gwyny P on 13 October 2021 - 10:10
I have had the same problem but with an odd twist.

German Sire owner confirms a mating that would have produced puppies at the time of my pup's birth.

Sketchy Breeder (listed here under the Alla Zorikova posts) here in USA says she will not give several of us our papers.

We paid over $3500 for these supposedly fabulous pups sired by Lucka von Buchenland and cannot get papers.

Zorikova has repeatedly started a nasty conversation via text and ends with threatening to sue us and then NOT provide the papers for our dog. . . we have 11 of these chats to date.

This has gone on since May 2021.

Zorikova admittedly 'owns' over 80 German Shepherds for her bite dog business.

She has access to a huge number of Dams which likely had some puppies she was selling off as Lucka's progeny when she ran out of Lucka's puppies.

The only problem is, she can only register a reasonable amount of pups with one mating.

Zorikova picked a fight with the rest of us and that became the reason to with hold our Pedigree papers.

Zorikova claims to be an attorney, yet there is ZERO record of that anywhere in the USA.

Good luck with YOUR papers.

Seems unreasonable with all the technology and overnight mail that this would take so long.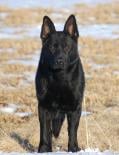 by Jenni78 on 23 October 2021 - 16:10
I bought a male from Slovakia about a month ago. Got his papers yesterday. I was shocked. That's about the fastest I've ever gotten export pedigrees. I am still waiting on SV papers for two 7 month old females! I'm not worried about it, as I totally trust the breeder, but there definitely seems to be something "up" with getting German papers lately.
---
---
Contact information
Disclaimer
Privacy Statement
Copyright Information
Terms of Service
Cookie policy
↑ Back to top