This is a placeholder text
Group text
by ethanl on 19 June 2017 - 06:06
So I come here, noticing that nothing has been posted since 2010... why?
By the way, I have an 11 month old standard poodle named Jack who is the first poodle I ever got to know. And I have to say that he is the best dog ever!

by Hundmutter on 19 June 2017 - 06:06
Because Poodle owners including yourslf have not bothered to use the PDB facilities ? Register your dog's pedigree, put some photos up of your dog, start a forum topic with a question or an issue. Most of the breeds seem not to use the board to its full potential. But if you want it active and vibrant like the GSD pages, you and other owners need to USE it. You could end up chatting to some fascinating people all over the planet.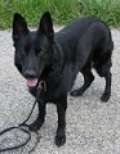 by Lunastar on 19 June 2017 - 17:06
One word Labradoodle. Thanks to Poodle mixes like that, purebred Poodles have lost most of their popularity. There are now more designer Doodle mutts than Purebred Poodles in the world. I for one think the mixes are ugly and pointless as they are not better than a purebred Poodle. Poodles are smart beautiful dogs and do not need to be cross bred. And those Doodle mixes don't last long in a home as they flooding shelters and rescues. Also many people see the fluffy pom pom wearing show Poodles and think Poodles always look like that and they put off from liking the breed just for the continental clips alone. I wish kennel clips would be allowed for showing as then more people would see that Poodles are not just a fluffy "girly" dog. Also if breeders and groomers showed photos of different clips that Poodles can be shaved into, it would help a lot. Poodles are being shaved bald just because their owners do not know what types of clips there are, poor dogs get sunburned bad.

Also crossing of different Poodles sizes is not good. The results are poor looking awkward Poodles that no one really wants. I've seen way too many Poodles size crosses looking sway backed or too long like they are part Dachshund. I was surprised to see that PDB simply had Poodle and not Standard, Miniature or Toy separately as different breeds, as they considered separate breeds not be cross bred.

by Hundmutter on 19 June 2017 - 20:06
Good point about the three Sizes, Luna; and of course there is truth in what you say about the rise of the Designer Cross, and the decline in numbers & popularity of Poodles anyway. But this is not the only breed, by a long way, where their Forum here is sadly very badly attended. And many of those other breeds are not subject to designer nonsense, so they don't have that excuse.
by beetree on 19 June 2017 - 23:06
The sad truth is none of the forums are as vibrant as they were in the past.
by ethanl on 20 June 2017 - 02:06
Handmutter, thanks for your reply. I just discovered this site recently, and at first I thought it was just for GSDs, but I noticed the separate sections for different breeds with forums. I also noticed there were not many dogs in the poodle pedigree, so I've been adding them, starting with mine. I'm running into difficulty with other dogs being in the database but without any information, just a name usually, and sometimes they won't work, I can't add them in as a parent to another dog, nor can I create a new entry because of the name conflict, so it blocks my completion of the pedigree. If anybody knows of a solution to this problem, let me know!
by ethanl on 20 June 2017 - 03:06
Lunastar: I agree with you about the "doodle" mutts. There is no possible way that you can improve on a poodle by crossing it with a Lab or Golden or what-have-you. All you get is a mostly poodle mutt with bad hair, that doesn't excel at either breed. And because people don't know poodles, they think they're getting a great dog because it's better in some ways than the lab or golden, but if they could just get to know the breed, they would realize that it's the poodle they ought to be getting. Why settle for second best? I figured the doodles would be hitting the shelters and rescues, because that's how every fad goes. Recently I stopped and talked to a lady who was walking what looked like a black standard poodle, she told me it was a golden doodle she got from a rescue. It must have been more than 90% poodle, I couldn't imagine why anybody would abandon such a dog! But maybe the original owners thought "non shedding" meant "no maintenance".

I love the fluffy poodle clips, the continental clip and all the other fancy ways you can clip a poodle. The thing I find disappointing is how many poodles are clipped short all over, it looks so plain for a dog that can be done so many ways. I was wondering if you could lend me some insight as to why fancy clips are off-putting to you, I have heard others say this too but I don't understand why.

I understand about the crossing of sizes. The in-between dogs are not so great, often having short legs and a long back. But poodles are actually one breed, with a single breed standard (in North American kennel clubs at least) and so it's not technically cross breeding. Nevertheless it shouldn't be done unless there's a good reason. One example is the famous mating of Follow the Sun von Shangri-La, a small apricot standard male, with Palmares Spice for Shangri-La, a large red miniature female. The result was a litter of in-between sized dogs that were not square, but after several generations they were able to breed them back to proper conformation and now we have red standards, thanks to this.

I do wish the database had a place for variety (standard, mini, toy), but then they have other information in the database that doesn't seem to ever show up in the normal view, such as color. Not sure who to go to for database issues.

by Hundmutter on 20 June 2017 - 09:06
Talk through the PM system to the Moderator who was helping you on your other thred with the Admin on entering dogs in the database (where you only have a name and no other identifying information). They can pass on suggestions to Oli who owns the website.
---
---
Contact information
Disclaimer
Privacy Statement
Copyright Information
Terms of Service
Cookie policy
↑ Back to top