This is a placeholder text
Group text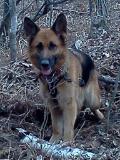 by ilovemypoodlefluffy on 14 March 2008 - 07:03
hello, i am the proud owner of a 6 month old black standard female. her name is fluffy. she is my daughter's dog. she is currently in training as her autism service dog. my daughter has asperger's syndrome, which is an autism spectrum disorder, and we are hoping to train fluffy to help her to stay safe and to help her emotionally as well.
i did not want to name her fluffy, but my daughter (5 years old) wanted to call her furry. i said, i am not calling that dog furry. she said, but mom, she's furry! i said how about furry can me her last name and fluffy her first name. she said, ok, mom. so i am allowed to call her fluffy but i get reminded her name is furry, too, lol.
i would love to meet other poodle owners/lovers. i never thought i would get one, i usually like guard dogs. i used to have 2 german shepherds and when my male died i decided that since i would be gone alot with my female shepherd soon, maybe i should get another breed as a companion for my little girl. i was actually looking for a mini, but heard that small dogs take a long time to housetrain, and when i found a standard pup in the paper that was already housebroke, i decided to buy her, sight unseen.
the guy i bought her from delivered her to me since my boyfriend got frustrated with his directions when we were going to go get her. she was very shaggy when i got her, with eyes so irritated that they were matted almost completely shut. she had also just vomited too, so was not real appealing. a friend of mine bathed and clipped her, then it was amazing what a beautiful dog there was underneath all that fur.
she was timid and unsocialized. the guy i bought her from had intended to use her for breeding. at the time i bought her he had 40 dogs on his property, mostly puppies. he sells golden retrievers, poodles, german shepherds, and labradoodles. he told me he was getting a new job soon that wouldn't leave him as much time for the dogs so he was reducing his breeding stock. i paid the $300 he wanted and he complained how he was losing money on the pup.
when i took her to the vet, she hated the needles and it was my first dog that didn't just love the vet. the vet thought she had a bad breeder, but i contacted the original breeder. the guy i bought her from had bought 3 poodle pups from the same litter, claiming the black females would be his family pets, and the brown boy would go to his sister nearby. he lied. the papers stated that the dogs were not to be used for breeding. when i contacted the breeder, he said the guy i bought my puppy from had her a couple months. he was so upset when i told him what condition she was in when i got her, he drove over 2 hours the next day to pick up the brown boy. my friend who cleaned up fluffy said she had some really nice lines, and bought her sister. the brown boy went to a new home soon after being rescued. :)
my friend that bought my girl's sister saw the facilities where the dogs were kept, and said it was bad. apparently the lab that is the mother of the advertised labradoodles is sick, she bleeds every time she moves around, or did at the time, 2 weeks after her puppies were born. sad, huh? my friend reported what she saw to the police but we don't know if anything happened to the guy, probably not, since his ads are still running.
wow i wrote alot. i would love to hear from anybody else who knows or loves poodle. my grandparents used to watch a mini black poodle for their neighbors, she was so cute and that was one reason i wanted a poodle. my boyfriend's family had a mini when he was growing up, and the poodle is his favorite dog because of that. our family is now complete, i have my favorite dog, my german shepherd, and our daughter has his favorite dog, a poodle. cool.
by Jocquelle on 10 January 2010 - 00:01
Here is a Standard Poodle group on Flickr that is all about the Standard Poodle.
Lots of photos, chatting about health, fun, intelligence of this breed - Everything.
This is just what you are looking for!
http://www.flickr.com/groups/69361585@N00/
Regards,
Karri
Moondance Standard Poodles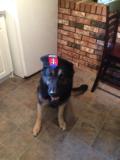 by Pirates Lair on 06 November 2010 - 23:11
Check out this poodle

http://www.youtube.com/canczechdogs#p/u/16/uhWgO7irwrI

You won't see a Stud like this anywhere else
---
---
Contact information
Disclaimer
Privacy Statement
Copyright Information
Terms of Service
Cookie policy
↑ Back to top