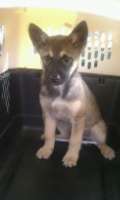 by JamesTafoya on 12 April 2019 - 19:04
I am posting this from phone and couldn't get pics to upload so I hope they come through, so just pasted them. I am looking for possible breed info. I was told this was a Belgian when purchased but looks like he has GSD coloring. But he doesn't have typical GSD sloped back. Possible mix? Any info would be appreciated including on uploading pic from phone without URL
by jillmissal on 21 April 2019 - 14:04
You didn't post any pictures.
Edited to add: This is why buyers need to do their due diligence. Only buy from breeders with pedigreed and registerable dogs. Try not to buy sight unseen if at all possible. Do not buy from a breeder who claims 'purebred without papers' or any other such nonsense. In Canada, it is illegal to sell "purebred" dogs without papers. Rule of thumb: if no papers exist, the dog is de facto not purebred. Another rule of thumb: a "breeder" willing to breed dogs that don't have papers is not a reputable breeder, so don't buy their dogs no matter what.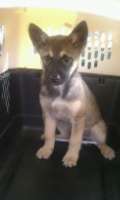 by JamesTafoya on 30 April 2019 - 14:04
Jillmissal, I have tried to post pics and have visited with a couple of admins about posting pics because it always show error 405 not allowed. This site is very dated as to how posting pics works. But my original post was to get some possible breed info on a dog that I had and not being rude I personally don't care about registered pedigree. I think it is fine and dandy for the breeders to be able to tout but for me it is more about the temperament, ability and looks of the dog. I am wanting to purchase a dog in the future that had some of the same qualities and looks as the one that I had even though he can never be replaced.
You must be logged in to reply to posts
---
---
---
Contact information
Disclaimer
Privacy Statement
Copyright Information
Terms of Service
Cookie policy
↑ Back to top