by jbbrbx on 23 August 2004 - 19:08
What works best to cover my exercise pens (large) and get the dogs off the dirt and mud in the winter. I have considered Concrete (very expensive for such large pens) but will to do if necessary, Pea gravel or sand (very very hot in the summer), or some kind of mulch (light weight and will blow away). As far as I can tell, there is no one substance that does not have drawbacks. Is there anything that will be comfortable and clean for my dogs. Thanks in advance Jan ;-)
by Hucklebuck on 23 August 2004 - 19:08
Hi Jan. I started this topic on a diff board. I used to use cedar mulch. It's a natural repellent to bugs. The problem that developed, was my dog started digging into the dirt, and mized all the dirt in with the mulch. I was impossible to seperate. I then built a form for a concret pad. I was tired of him getting muddy and dirty. Just last week, I decided to build a wood form, because I am selling my home next year and it may be a drawback for someone to have a concrete slab there. SO,,,I built a 12'6" x 6'6" form made with 3/4" plywood and 2x6 studs. Its solid as a rock. I was nervous about wood, until I had spoken wiht a few breeders in Germany who use it. I sealed it all off with Thompson's multi-purpose sealer. Then I put the kennel on top, (the form is 7" off the ground), And I made a sloped roof, using fiberglass. COmplete with supports. INSIDE, I used wood SHAVINGS. NOT MULCH. These are much easier to clean. So, pee gets absorbed by the shavings, instead of pooling and having the dog get soaked. I scoop out soiled shavings, and replenish a thin layer weekly. I can email you some pics. Out of all the ideas I have toyed with or tried, this seems to be a great one so far.
by DKiah on 23 August 2004 - 20:08
We have one kennel on concrete, the whole area was there when we moved here - there was a hog farm on this property so there are drainage trenches and the concrete is sloped for runoff... very easy to clean and disinfect - dogs were never in it that long anyway... if I were to use it a lot, guess I would probably try shavings. Not a big fan of them either, messy and I swear they are irritating to the dogs.. We have 3 more runs close to the house that we started to do concrete and then went with decking built about a foot off the ground, underneath we have rocks and I can disinfect and hose after the solids are picked up... very easy - although, my last board train was very messy and I did a lot of hosing and scrubbing and am seeing some blistering in the wood, might try the new synthetic decking next time!
by Nikki on 23 August 2004 - 21:08
Like Jan, I too have been pulling out my hair trying to decide what the best flooring would be for my exercise areas. I was considering 1" wash stone. Has anyone used the wash stone? I was told that it is easy to scoop poop, plus it may help with keeping the paws nice and tight. Any pro's or con's to this theory? Thanks!!!
by gsdoglady on 23 August 2004 - 21:08
You said LARGE excersise area - I live in a wet area (NW Oregon) and we have heavy clay here. My original flooring in the 14x40 foot pens was a thick layer of pea gravel, but I found the dogs gor a coating of dust which came from the fields around me. I then added a think layer of cedar shavings (coarse shavings are best) and add to them as needed. The dogs stay clean and sre above water. There is a covered area. The runs the dogs live in are also deep cedar shavings and work well. I have used concrete (seal well before use!), all kinds of gravel, sand and wood, and I like the cedar over a gravel base best.
by KENNYR on 23 August 2004 - 23:08
Had a friend once who used clay dirt but it had to be packed and dried. It turned out very well! It looked to me to have a little sand mixed in it but it was solid and there was no digging problem. Usually people who do concrete work can put this together for you!
by DKiah on 23 August 2004 - 23:08
I am hesitant to use any kind of rocks... have a friend whose dog ate the pea gravel, couple friends actually..... one dog is dead.... it obstructed. Sorry to throw in the weird ways dogs can get in trouble thought but I tend to think that way ... they do some of the oddest things sometimes....
by dcw on 24 August 2004 - 01:08
I tried pea gravel once years ago and didn't like it. I had a dog that started eating it as well. I live in wet southwest Washington and use playground chips. This is the same stuff they use under swings etc. on playgrounds. It wears better than cedar shavings. You do of course occasionally have to keep adding to it as you scoop it away.
by bcoats on 24 August 2004 - 01:08
Just thought I would throw this in the conversation. :) I started using a new type of shavings for my Arabian Horses and found them to be much better than your average type shavings. They obsorb 100% more than pine shavings very little dust and I only had to change the new shavings once every 6 weeks. I decided to try it in with the pups ...it works great. It Super Absorbent, pups stay dry and poop is so easy to clean up because all the moisture in the poop is obsorbed so the poop just scoops right up. The name of this product is called Nafcore. I buy it from our local Ag Center for only a dollar or 2 more than regular pine shavings. I think the web site is www.greenenaturalfibers.com. I have used pea gravel but as you all mentioned, pups and dogs will eat it! They think it is a treat or something! I really like the large concrete pavers. Just lay down some sand to level and lay the pavers over it. You can buy them in 12x12, 15x15 and even larger.These work pretty well and easily hosed down to keep clean. Beth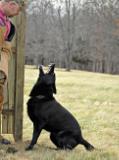 by Diane on 24 August 2004 - 04:08
Beth, Have any of your dogs tried eating any of this nafcor material? What happens if they ingest some of it? Diane
---
---
Contact information
Disclaimer
Privacy Statement
Copyright Information
Terms of Service
Cookie policy
↑ Back to top