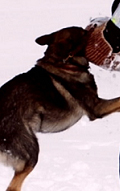 by MygsdRebel on 29 August 2020 - 18:08
So I thought I would just put more word out where possible and see if anyone had any information or help on how I can find this dog.
This is a female out of my first litter. She was given to a family with intent to raise her and work together in the same club.
Well he disappeared and stopped all contact. As far as I can tell he sold the dog from under contract and moved to Hawaii.
I've contacted AKC and they cannot legally divulge information on the current owner despite me being the breeder. What is interesting is that the dog has been health tested and her kennel name changed so I know someone has her.
From what I've been able to glean she may be owned by a Ryan and/or Angela Hunting. I can't find them on FB or any info on the kennel name they chose, either.
What else can I do? This was my first litter. The contract was not legally notarized, although I do have a signed copy. I did not microchip either, but believe me, i won't make the mistake again.
I just want to know she is healthy and alive and maybe how she's doing. I won't try and take the dog unless she's being neglected. So I'm just at a loss. I want to know where my puppy is. It's been weighing on my heart for 5 years.

Here is the pedigree: http://www.pedigreedatabase.com/german_shepherd_dog/dog.html?id=2848739-naya-vom-nayalator

I own her sister Ilse vom Aufstand.
Thank you so much for reading all of this. I'm very much hoping someone can give me some guidance.
by GSCat on 29 August 2020 - 19:08
Maybe, if you're lucky. You'll have to register, but it's supposedly free.

https://www.working-dog.com/


by Hundmutter on 30 August 2020 - 02:08
If you had chipped the litter before they left you, it might not have helped anyway. Legal interpretation may vary, but here in the UK at least there would still be no way to enforce any ownership / control over dogs you had chipped as their breeder; the current keeper would be favoured, as the 'owner'. And if they paid your original customer / co-owner to buy the dog from them, you would have probably zero chance to argue you should be regarded as retaining any connection with what happens to the dog. Might well be difficult even if you could prove 'theft' in the original arrangement being broken.

If I were you I'd be more than thankful she seems to have ended up with someone who cares enough to pay and do paperwork re health testing etc; that could have gone a whole different way.

From a legal perspective also, no doubt it would be argued that maintaining an interest in dogs you breed is all very well, but once you have parted with them, by sale or otherwise, to another keeper, you forfeit the right to determine what happens to them. If you want that, you have to keep them all yourself.
---
---
Contact information
Disclaimer
Privacy Statement
Copyright Information
Terms of Service
Cookie policy
↑ Back to top