by Dennisandjane on 10 May 2017 - 19:05
I hope it is okay to ask this on this forum - if not I apologize and please remove it.

Hello, I am new here and just welcomed a new member to our family. I have looked at her pedigree and attempted to research all these different names to see if I could get an understanding of her, but I am still confused. I was wondering if anyone has the time to put in laymen terms if her family members are champions or show dogs and if so in what area and what did they win or score and when and where or whatever the correct terminology would be. She is so sweet and super friendly. Here is what her pedigree says, but I can't pronounce most of the names.

Her name: Andi V - DN38648108
sire: Echo Trpaslik Policia
dam: A Gray Sea Vom Susswasser

Next columns:
Gunner 2 Westwood
Gimi Bily Trpaslik
Nathan Vom Fegelhof
Racher Vom Gebirgsshaus
Olymp Policia
Assi Vom Gevatter Teddybar
Grim Z Pohranicni Straze
Bete Bily Trpaslik
ULK Vom Revolutionskupper
Iola Vom Fegelhof
Rueko Vom Hena-C CD
Dany Ple-Mir

Thanks.

by Western Rider on 10 May 2017 - 19:05
by Dennisandjane on 10 May 2017 - 20:05
Thank you for that link. I opened it and then see such things as
SCHH3 IPO3 ZVV does that have any meaning? This is just one of the words/letters I see on one of the dogs but each one of them has strange words/letters. Sorry to be so hard to understand.

by Western Rider on 10 May 2017 - 20:05
There are working titles Sch1 -3 IPO 1-3 , ZVV etc. Google the ones that you have a question on. AD is an endurance test FCI is from Europe similar to AKC here etc.
by Marylee on 17 July 2017 - 22:07
Good evening
I recently bought a sable girl from Slovakia. When her pedigree came and I started to research it says both her parents are black.😳
But her original owner said one of them is not all black. So even though I have her pedigree I'm trying to research to find some answers.
I am under the impression both her parents have passed away.
She has had a litter of puppies before she came and they of course have pedigree in Slovakia.
I do not know what steps to try next to find some information that would prove they are not solid black.
Yes, I do have her pedigree and she has both her Svv1 and Svv2 titles and I would think if someone was going to try to scam a pedigree this would be one hell of a cover up seeing how her being sable would stand out like a sore thumb. I'm sure someone would have questioned her parentage.
Her name is Calanity kvero DOB is 06/05/2014
Her sire is Jag Kvero
Her dam is Ejko Janarko
If anyone has a answer that would be great
Marylee Harris

by Western Rider on 17 July 2017 - 22:07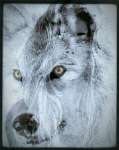 by Fantom76 on 18 July 2017 - 02:07
I have not kept up with the genetics of color, so my knowledge could be outdated, but I thought that 2 blacks (her sire and dam) could only produce a black no matter what their ancestry was.

by Reliya on 18 July 2017 - 05:07
Is there a possibility that one of her parents is (was) carrying dominant black, and this covered the sable pattern?

by Hundmutter on 18 July 2017 - 07:07
This is interesting in the context of the debate on another current thred, one where someone asks about the unusual colour of a recent puppy. It is hard to be sure from small photos such as those accompanying pedigree records on here, but with ever darker sables being bred for, its IMO quite possible that one of the parents of MaryLee's bitch is in fact a very dark 'Black Sable' rather than an 'all-Black' animal. Comparing the two pics, my money for this is on the dam, Ejko Janarko.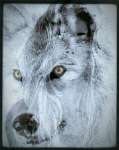 by Fantom76 on 18 July 2017 - 09:07
Hundmutter. I thought that the dam's coat looked a bit like a REALLY dark sable. You can see patterns in it
---
---
Contact information
Disclaimer
Privacy Statement
Copyright Information
Terms of Service
Cookie policy
↑ Back to top