This is a placeholder text
Group text

by mrdarcy on 24 August 2023 - 04:08
Steve1972, I have ammended your post and this is for you, if you have anything you want to say to me do so in a PM and not here. Hunden på billedet er efterkommer af Champ von Dakota, and yes he is a sable dog, og producerer sable hunde
That is all that will be said about what is or is not a sable!! The member is asking for sable showline breeders nothing more so keep the comments to just that. Thank you everyone

by Q Man on 24 August 2023 - 10:08
As for a Sable Showline German Shepherd...There are some breeders that will breed what they call the "Golden Line"...which is a breeding combining both Showline X Working Line...You might find a breeder that breeds this combination and will have some Sables...
by Steve1972 on 24 August 2023 - 10:08
Careful Q Man


I have recently been spanked by admin (rightly so) for an incorrect post that I made regarding the pedigree of a pictured dog not matching the pedigree of the dog named in this discussion.

Due to my own ignorance I did not fully understand the post at the time. Admin showed my error and I thank them for that. I am not ashamed to admit error.

I regret not seeing my warning before my post was edited.

None the less. I stated that Apade posted incorrect information on this thread. My statement regarding his post was incorrect. I feel that I must make an apology in the same format that I made the statement so that any one who might have read my incorrect information will now have correct information.

Apade, I am sorry for stating that you posted incorrect information. You absolutely DID NOT post incorrect information. I did not understand it correctly and I sincerely hope that you will accept this apology.

by mrdarcy on 24 August 2023 - 14:08
Thank you Steve for the above post but would have been better had you not added the sarcasim. Q man's post is absolutely fine, he is making a recomendation and that's what the OP asked for.  Now let's get back on topic please.
by Shamhatdeleon on 25 August 2023 - 14:08
Heidi Theis in Ifdaho (https://www.theishof.com/upcoming-litters) has some show line x working line sables.
by Dasberger on 25 August 2023 - 22:08
I'm going to have to agree there have been a number of sable dogs produced out of Champ's lines. I almost ended up with a beautiful sable female who was mentioned/pictured in the old sable show line thread from 10 years or so ago. 

These days in the WGSL's red sable is more common than true sable. The female I'm currently working/showing has a lot of sable on her neck and down her back as mentioned by Steve as common in females. I love her color but I've had two judges comment recently about her "pigment". Unfortunately, these days if it's not completely Red/Black they're not interested. Anything but places just in front of working lines in the ring. I'm going to show her one more time at the USCA Sieger next month. My saving grace is her ability to work and I'm excited to show her off in the performance test. All too often at shows I hear "My dog is just a show line, it can't work" which is a sad state of affairs for the German Shepherd dog and its future.

All that said I know of a really nice red sable female just under three thats available and a couple of breeders in the SE you can reach out to that occasionally have nice red sables. PM if you're interested

If working/show cross is a possibility for you I would second Theishof kennels. Heidi's dogs are very accomplished in the ring and IGP

by mrdarcy on 26 August 2023 - 06:08
Dasberger, thank you for your above post but the original poster is looking for breeders os showline sables. We do not want a debate about what is or is not considered Sable. There are showline sables and workig sables but that's not for this thread. So if you know of any breeders of Showline sables contact the member asking please'
********Any further comments on what is and is not considered a sable will be DELETED. *******

by mrdarcy on 26 August 2023 - 13:08
Members wishing to discuss what is or is not a sable could start a new thread...could be an interesting read.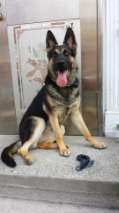 by alexnds05 on 24 September 2023 - 20:09
The best advise I can give you is to search for a breeder that crosses working lines with showlines and therefore, you will get a sable dog. Sable is almost not existing in Showlines these days.

In the video below, I explain how color genetics work in a general way. This is a 3 part video series

by LibertyAcres100MH on 25 September 2023 - 12:09
Contact Quellen German Shepherds. Joanne Brucks has been breeding top quality, health/temperament tested/ titled dogs in IPG & CKC for decades. She has some very nice show line working line crosses. Also, my next working linr litter will be sable with stock coats so will make nice dogs for the showing. They will have breed standard conformation.
Look up Liberty Acres on Fb
Ckc kennel name is Libertyacres.


---
---
Contact information
Disclaimer
Privacy Statement
Copyright Information
Terms of Service
Cookie policy
↑ Back to top