by hexe on 18 January 2019 - 22:01
If you have the pedigree on the pup, someone might be able to tell you if the parents both carry for long coats.

by mike817 on 21 January 2019 - 19:01
not a longcoat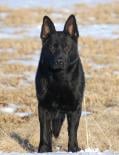 by Jenni78 on 24 January 2019 - 11:01
No pictures yet. 🙁

This is almost a game now. My mentor taught me a way to gauge with really good accuracy, but only between that 3-4 week point. I've been on a winning streak with it. 😁

Rik, I hear that a lot, hair between pads, etc. Have never found that accurate.

At this age, anyone who says they're sure is lying. 😂 If you can't find photos of early on, then the only thing to do is wait.

by Hundmutter on 24 January 2019 - 16:01
As others including yourself have said, it could still go either way; but FWIW, I am very used to seeing European Showline pups (being as I live in the UK) and based on your pics I think it probably IS a Longcoat. It is true that knowing the pedigree might help to confirm that, as standard coats on both parents do not mean they are not carrying the l/c gene. However, as to how good a GSD it will grow up to be, and your preference for a standard coat - the longcoats often have better construction underneath all that hair, the coat length makes no difference with other factors such as health, temperament, trainability; and the SV / Germans have declared both coats equal now, anyway !
by Rik on 25 January 2019 - 16:01
Jenn said: Rik, I hear that a lot, hair between pads, etc. Have never found that accurate.
I agree Jenn, that was one of the signs old timers suggested looking for, as well as hair on the ears.
I don't know of any 100% way to tell at this young, other than to wait a little longer. it's really just best guess until it's not.
I've looked at the pic very closely, and there is just nothing that sways me one way or the other.
Rik

by Dawn G. Bonome on 02 February 2019 - 00:02
JMO....I would say a long coated pup.

Any new pictures of this baby?

Very cute!!
---
---
Contact information
Disclaimer
Privacy Statement
Copyright Information
Terms of Service
Cookie policy
↑ Back to top