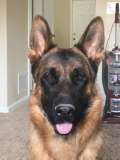 by jmcnees1 on 16 June 2019 - 05:06
Hello everyone,

I was curious to see if a dog was titled and started shows as an older dog compared to the typical dog would that dog be penalized because of age? I know it is not the ideal route but if a dog has a short show career and is starts at the age of 4-5 how significant would that be? Im not expecting a VA rating or anything just looking for experience. Thoughts?
by Centurian on 16 June 2019 - 20:06
What is your purpose and aim for showing ..

In any event ,there is absolutely nothing wrong with showing your dog and having fun showing . I think the judges will be honest and fair to your dog . I can't speak for you , but whenever I showed , I was serious to do the best I could , but when the day ended , the ratings to me were not the end of the world because whether my dog placed # 1 or was at the back of the line , the dog was still mine . Just do your best and enjoy what you do with your dog . Remember every dog [ and person ] has something to offer in life. I have seen some dogs simply not place well even tough they had better structure than those placed in front of them , because they were out of physical condition . Remember these dogs are to be athletes too - meaning they must gait well and have endurance . So that expectation is also there for a dog 4 year olds . One time I showed my Sch 2 GS in the veterans , sort to speak category , and the SV Judge was stunned and commented on the power and movement of him. Very few GS dogs could gait or move like him . So even at 7 years old you can still enjoy showing a dog.

Besides , if you are showing for ther enjoyment , and you are relatively new to showing , that will be good experience for you . You will meet , at least I hope you will meet , people that you can talk to and to exchange ideas about show training which will be valuable perhaps for your next dog to show.
---
---
Contact information
Disclaimer
Privacy Statement
Copyright Information
Terms of Service
Cookie policy
↑ Back to top