This is a placeholder text
Group text
by karinaveipa on 06 November 2021 - 05:11
I understand that to have an approved FCI litter, both parents have to have FCI papers, even if the parents live in different countries. But is it possible to get FCI papers on a dog that was born with AKC papers, lives in the US? I know that this would be much more simple if FCI were like national registries, but it is not, so that confuses me. How would one get FCI papers for the US dog? Would they have to register their dog with an FCI country's national registry? And if so, would that dog still have to attend a couple of shows to get a breeding approval? Or would that dog not require a breeding approval at all? This is a topic of interest to me, but i have found no information about this on the internet. So i'm hoping that someone can help me out with this (:

Some additional information, i live in Latvia, plan to live in Latvia when i start breeding, Latvia's national registry is LKF, works with FCI. I am aware that it is possible to import an AKC dog, get FCI papers for him, breed him with an FCI female that way, but i want to see if it's possible to find and use a stud from the US (Owning another dog is a lot more work and money after all). This hypothetical breeding would be done with AI, so the only real question here is about if this can be done, and if it can, what would be the logistics behind the breeding?
by hexe on 08 November 2021 - 01:11
I would think the best place to get an answer would be to contact FCI directly, and ask them about this.
by Diamondgal on 21 November 2021 - 19:11
Okay. So the U.S. & Canada aren't members of FCI. BUT Mexico and down into South America are FCI members.

I would believe that will have to be factored into this.
by Southernwind on 22 November 2021 - 18:11
Im a FCI Judge, Im not totally sure i do understand your question, I will try to answer it the best possible way.
FCI will register your AKC dog as long as you have the original AKC documents and a 3 generation AKC pedigree, the Club your FCI dog belongs to will have to validate the AKC papers and do an FCI registration in your country, so your AKC dog will have both a dual registry, FCI from the Country you belong and do the validation and his AKC papers. Be certain the FCI country is accepted by AKC, not all Dog Clubs in different countries are accepted by AKC.
when I moved into US I had to validate all of my dogs pedigrees, and do a Foreign Registration application for all of them.
I fyou are breeding the female in your country then you should have both dogs registered with FCI, if you are breeding your dogs in the USA, then Both dogs need to have their AKC, to be able to get this you would need to have a Foreign Registration application submitted to the AKC along with the DNA profile.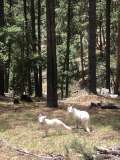 by Misty Mountain Swiss Shepherds on 23 November 2021 - 00:11
What breed of dog are you talking about?

---
---
Contact information
Disclaimer
Privacy Statement
Copyright Information
Terms of Service
Cookie policy
↑ Back to top