by Cutaway on 06 September 2016 - 18:09
Although I agree with the spirit and intent of Shawnicus post, i dont think its fair... Based on meeting and talking with GSD owners in the wild, the "Hip" myth is just bad information that gets passed along in general society...
I love doing uphill sprints with my mutt (my fat self stays put hehehehe) in his conditioning, that combined with periods of barking intervals and flat land sprints. I often get asked by people in the park if i worry that i am putting too much strain on his back end since GSDs (even though they think mine is mixed with something else because of his coloring) have notorious hip issues...

by susie on 06 September 2016 - 19:09
The original post simply is an ad - you may feed whatever you want, without proper exercise it´s useless.

Personally I love to train dogs, walk dogs, play with dogs, and I certainly don´t wait until they are x-rayed ( 12 months over here ).

In my opinion a dog, even a puppy, MUST be able to run and play.
Concrete is not good for joints, jumping is not good for joints, staircases aren´t - but running, playing, even hunting?

Dogs in the wild HAVE TO MOVE, otherwise they will die - with proper exercise and proper diet a dog will develop muscles -
and a dog not genetically prejudiced won´t develop HD because of running, working and playing ( no concrete, no jumps, no staircases, no exercise when the pup is tired ).

I HATE the advice to crate puppies only to get better hip ratings later on....doesn´t help the breed.
by doglover250 on 06 September 2016 - 21:09
I dont use the shelll of the egg. Also this is not a advertisement but if you think it is simply dont try anything that i mentioned. Once everyone trys this combo you will to also not here to argue just here to help people out with there dogs. Also shawnicus glad to see there are people like you that understand about the importance of working out for dogs and the difference between working and show dogs and there capabilities .
by SitasMom on 07 September 2016 - 13:09
the only way to add real muscle mass is to work the dog......and feed it correctly.

for muscle mass;
distance trotting creates the long muscles......(like marathon runners)
sprinting, jumping and quick hills creates more bulky short muscles (like sprinters)
sometimes working a dog over a peanut can help with core muscle development.

there are no quick fixes, no magic foods etc. (not getting into steroids).

a quality diet with adequate carbohydrates, protein, vitamins and minerals is important, but getting out and working the dog is absolutely necessary.



by Cutaway on 07 September 2016 - 15:09
sometimes working a dog over a peanut can help with core muscle development.
a roasted peanut? Shell on or shell off???

Serisouly though, what the heck is a peanut other than these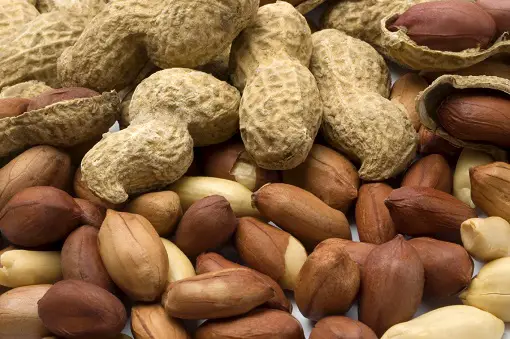 by fring on 07 September 2016 - 18:09
you need to leave rock in while.

by Cutaway on 07 September 2016 - 20:09
Thanks fring, now anyone have a video on it being used??? And yes, i googled but odd things came up lol

by Mithuna on 08 September 2016 - 03:09
Proof of the pudding is in the eating. Its about time we start seeing pics to back up feeding advice.
I feed Abady's flagship product ( state of the art granular formula as well as raw; supplement with fortiflora probiotics and organic sea kelp ). Monthly sentinel spectrum and nexgard.( plus a once a year deworm with Panacur C ). Dog gets exercise everyday which include 45 mins trots and flat out 100m sprint intervals ( about 15-20 repeats).
The result is that the dog weighs a muscular 90 lbs ( no shimmering of skin as dog trots ). Very well developed and meaty shoulder and chest muscles. Well developed hip muscles and very firm muscles between last rib and hip region. Overall the front and rear of the dog is tightly coupled that can be observed even when the dog is walking at a normal pace.
My conviction is that this is a product of good diet and very regular exercise.
Dog in my avatar pic retrieving her green 12 inch baseball from one of her sprints across a snowy park field ( Brooklyn, NY )
by fring on 08 September 2016 - 05:09
company called fitpaws. if you don't know you lucky and not had rehabilitation to do. but good to prevent accident also. one peanut very good, two better. dog get good mid-section and tight back muscle. on ice days, do three four time along day and dogs happy, strong and sleeping ready for good days outside.

---
---
Contact information
Disclaimer
Privacy Statement
Copyright Information
Terms of Service
Cookie policy
↑ Back to top