This is a placeholder text
Group text

by Jetndre on 10 July 2015 - 16:07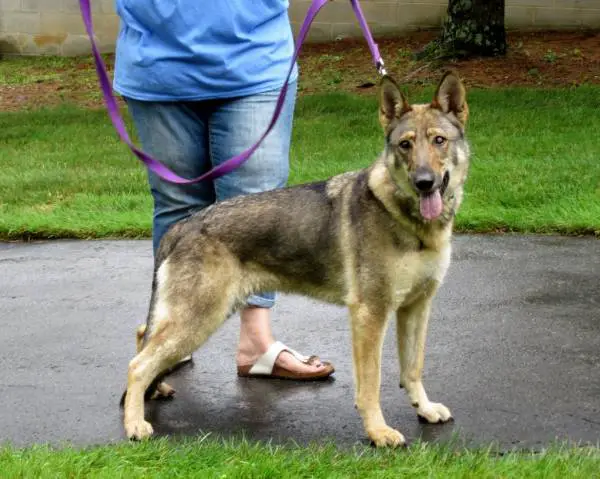 Her name is Charlotte and she just turned 3yrs old, spayed and fully vetted including HW preventative, She has pannus and been left untreated. On recent visit to vet's for vaccination udate vet feels she can only see shapes. Owner stated vet said she didn't need to be on the eye ointment unless she has a 'flair up'. Not sure if this is factual information or just an excuse to not have to go catch her every day. Charlotte lives a solitary life in a big fenced field with a dog house in a shed and has NO human interaction with her owner or family. The say they're not able to catch her and but i'm sure they don't want to be bothered with her. . Myself and a another area rescue volunteer went into her field and called her and she came running to us thrilled ot have company.  Her owner didn't come out. It took her a few minutes and a few treats to get her full trust and she was elated to have attention. She is extremely pleasant and loving.
On a prior visit the rescuer with me had attempted to dog test her with her passive male from outside her fence and Charlotte 'went bonkers."  This time we took her out of the field and into a neutral area and she behaved much better. She reacted mildly as was  afraid and unsure of meeting a strange dog and leaned hard into me for secuity. She settled nicely but we didn't force interaction other than having her sit near the other dog... she will probably be ok with another large dog with a  slow (a couple weeks) introduction. Outside of her field she was more inseure and it was very obvious of her sight impairment. She still has a lot of puppy in her and acts like a clown at times running circles in her field. She was very upset when we left and was whinining and jumping at the fence to go with us.
Her owners don't want her anymore and without rescue placement or a responsible  caring adopter Charlotte will be posted 'free to good home' which we are trying to avoid. Contact 'Beckleygsd@yahoo.com or pm me on this sight if anyone can give her a loving home.

by kitkat3478 on 11 July 2015 - 18:07
What a shame...I really do wish I could save them all. Heart breaking.
by vk4gsd on 11 July 2015 - 21:07
please update this thread.
by hexe on 11 July 2015 - 23:07
I would question the assertion that she doesn't need the pannus treated unless she has 'flare ups', as pannus that develops at such a young age typically requires a great deal more medical intervention than the condition requires in senior dogs. She's a very pretty girl, and I pray someone is able to step up for her and give her the life she deserves to have, that of a dog who is cherished as a companion and family member.

by Jetndre on 13 July 2015 - 14:07
by joanro on 13 July 2015 - 14:07
So is she in a home, or what's happening. I can't download videos.

by Jetndre on 13 July 2015 - 15:07
Sorry you couldn't access the video..it's just a link to Youtube where it can be viewed so maybe 'copy' and paste in general search engine window. It's just a general video of her but shows her personalitliy. She is still with the 'owner' and the other rescue lady who was the original contact person for rehoming is already being called to find out if she's got a place to go yet... they are threatening to take her to the shelter. Carrying water to her seems to be too much of a burden for them.
by vk4gsd on 13 July 2015 - 23:07
Tha ks for doing what your doing, please don't give up.

by Kalibeck on 14 July 2015 - 07:07
What a shame! Me too KitKat, & she is too sweet, too happy to be taken to the dark side...
jackie harris

by Jetndre on 29 October 2015 - 16:10
UPDATE: This pretty gal was adopted by a wonderful couple in Ohio and went to her new home the middle of Sept. They are having her pannus tx and the vet thinks she may be able to regain more sight in one eye. She is a amazingly confident dog for having severe sight impairment and is very active. She was very fortunate to have found such a caring loving home.
---
---
Contact information
Disclaimer
Privacy Statement
Copyright Information
Terms of Service
Cookie policy
↑ Back to top