This is a placeholder text
Group text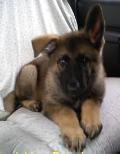 by GSDoogieMom10 on 01 April 2010 - 03:04
 I have a ( Micro Mini ) Daschund, can anyone give me a lil information on the size and things of that sort please

by bun bun on 23 April 2010 - 19:04
There are 2 sizes here in the USA and Canada, Standard size 16-36+ and Miniature anything under 11lbs, Ideal miniature weight is 9-11lbs.

In Germany there are three sizes...standard , miniature, and rabbit size...standard and mini are the same but rabbit is 6-8lbs.
They also go by chest circumference and weight...

I have never heard of Micro mini...sounds very unhealthy, did a breeder sell you this pup with that title...sounds like they were trying to get extra money from you by calling it micro. I would never buy a dachshund pup under 8lbs. What is this pups weight?


by Kimmelot on 03 July 2010 - 17:07
Micro Mini sounds like something from the Yorkie people. I think maybe Chihuaha people say that also. Totaly a BYB statment to get you to buy a small dog. Smaller dogs are not nessisarly healthy, in dachshunds they can have liver shunts, and heart defects. I would be careful to do all appropriate checks on your fur baby.

Whisper
---
---
Contact information
Disclaimer
Privacy Statement
Copyright Information
Terms of Service
Cookie policy
↑ Back to top