by BlackMalinois on 11 December 2017 - 14:12
Now we have endly a litle bit snow here in Holland the whole traffic is in panic LOL We have now special codes here red/orange/yellow with 5 cm snow, I remember that days in 1985 when I go to school with 90 cm snow and there exist no special codes. I ask myself have Canada the USA or Scandinavia Austria Germany/Russia Czech etc special codes for traffic and stay at home .... time is changing here..... The dog is a 7 months old X Dutch Shepherd powergirl very close linebreeding on Rudie Pegge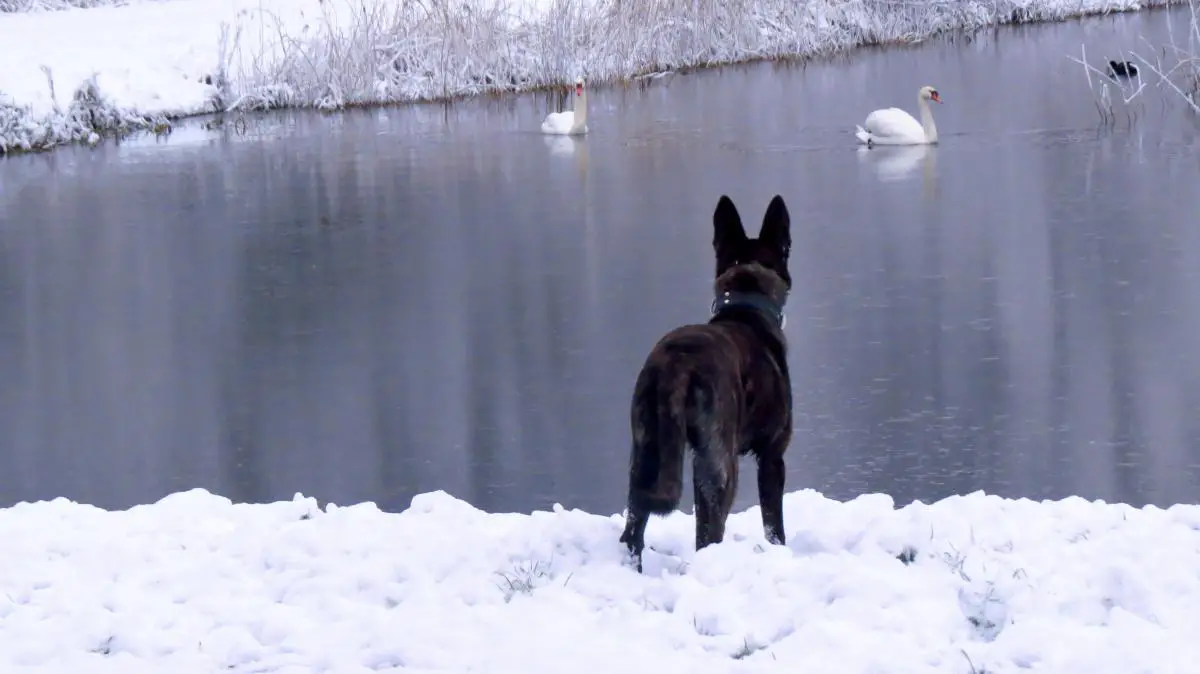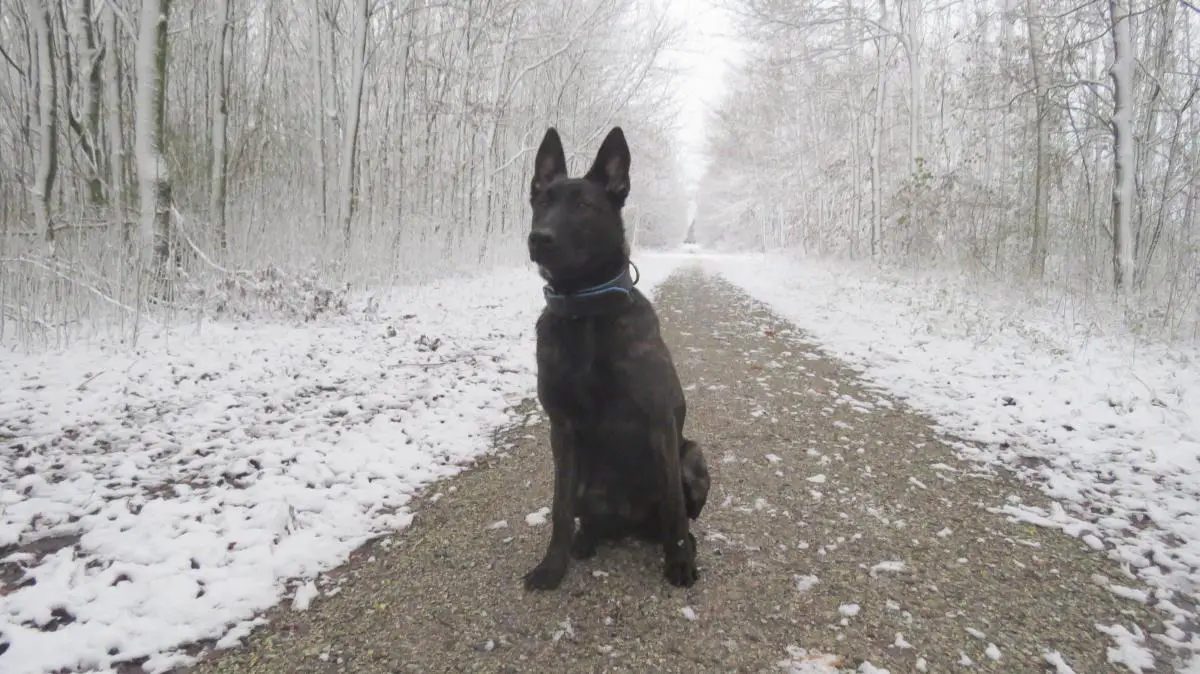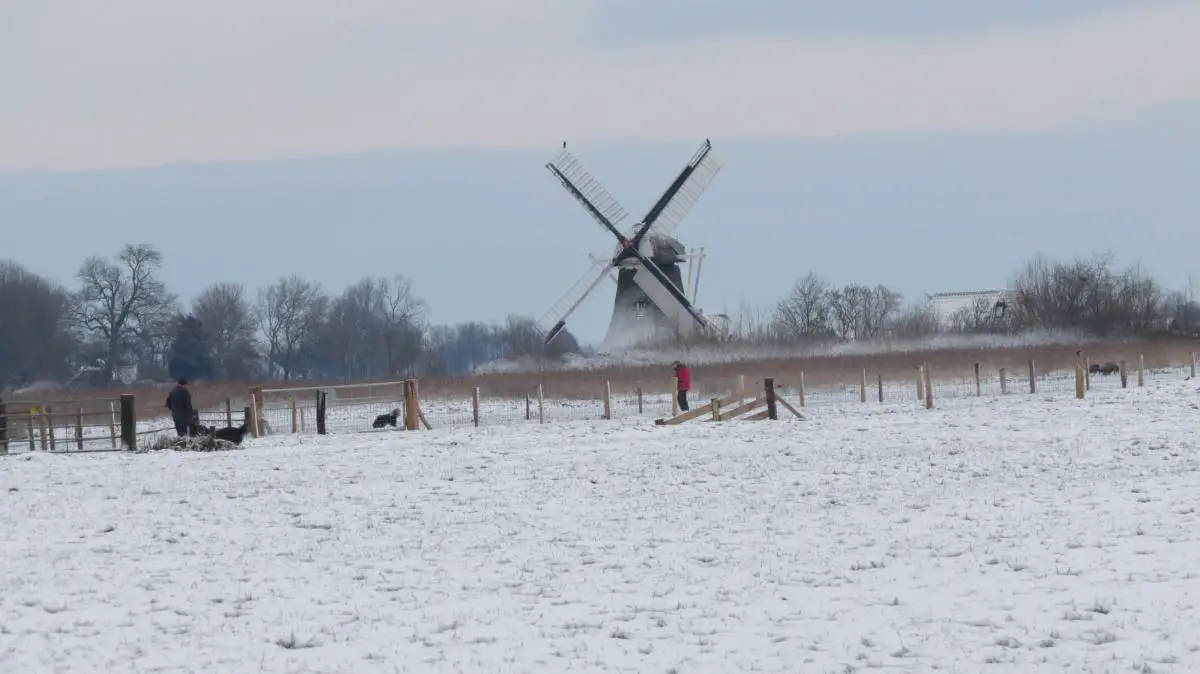 by yogidog on 11 December 2017 - 14:12
We have also a lot of snow to dogs are loving it I hate it but it brings the puppy out on all my dogs.

by Sunsilver on 11 December 2017 - 14:12
There is no code here in Canada to rate a snowfall. We do have what's called a 'travel advisory', though, usually issued by the police, if things get really bad. It means to stay off the roads, and only travel if absolutely necessary.

Travel conditions are affected by more than just amount of snow. If it is windy, blowing snow causes whiteout conditions, which cause accidents because drivers can't see where they are going. And of course, freezing rain can create very dangerous conditions

We cope by being prepared. I put the snow tires on my car a couple of weeks ago. It snowed about 2-3 cm last night, and as soon as it started, trucks were out on the road spreading salt and ploughing the snow.

Salt doesn't melt the snow when it gets below -18 C, and car batteries have trouble starting cars when it gets that cold. So, in those parts of Canada, people have block heaters they plug in to keep their car engines warm, and they may also use tires with studs in them. The also use sand on the road to help with traction, instead of salt.

You know things are really bad when the school buses get cancelled. That generally takes at least 30 cm (1 ft.) or more of snow!

by Baerenfangs Erbe on 13 December 2017 - 06:12
We've got quite a bit of snow up here but I live right in the snowbelt too up high in the north very close to the canadian boarder actually.

Fort Drum does have a code. Currently Road Conditions are Red: http://www.drum.army.mil/Pages/index.aspx



by Reliya on 13 December 2017 - 07:12
In southern USA (Mississippi/Tennessee here), we don't get much snow, so when it does happen, people lose their minds. For 2cm of snow here, there wouldn't be any school, and plenty of people would get into car accidents for speeding or improper lane changes.

by Hundmutter on 13 December 2017 - 16:12
Very similar to parts of the UK Reliya ! In northern places like Scotland where they get plenty of snow every winter, people cope with it much better than here in the softer South. We've just had a couple of inches settle last Sunday, the big village 15 minutes' drive away was 'closed' because all the roads in & out of it were blocked, schools were closed on Monday, Rail services were disrupted, I have not driven anywhere for 4 days, because I didn't absolutely have to. I do not know how much gritting was done, we'd had plenty of warning we could get the white stuff. There has been some skidding on ice patches; but fair enough as we are high above the Thames and 2 out of 3 ways to reach the opposite bank the roads are down very steep hills. Dogs on the flatter bits LOVE it !

by BlackMalinois on 14 December 2017 - 09:12

hahaha Reliya same here , this countruy here is not prepared on
strong winters what we have in Scandinavia,Canada,Russia etc
the airport Amsterdam here totally chaos, train station,distribution also I wouldn,t think about what would happen with 2 months strong winter here this country is lost. I think they can learn a lot from other contries , Scandavian people make fun of us
Sunsilver I,m sure your contry is much better prepared - 18 that temperature is long time ago here, I like strong winters cold and sunny and some snow no any problem .

by Baerenfangs Erbe on 14 December 2017 - 16:12
2013 and 2014 were Winters from Hell out here. Mountains of Snow, Icestorms, Temps of -20 to -30 for 6 months. I was about ready to pack up and move back to Germany. Those two winters sorta traumatized me. And we had a foster dog die due to Cluster Seizures during the Icestorm because all the roads were closed and we couldn't get him to the Vet.
That was terrible.

by Koots on 14 December 2017 - 23:12
Very nice looking Dutchie, and great Dutch-content pics. What is her temperament like?

by BlackMalinois on 15 December 2017 - 09:12

Thanks Koots dog has in every dicipline drives over too much,very hard female harder than
most males I have,difficult to train this kind of temper and hardness for corrections, heady stubborn charactar.Good food and ball drives
But very social, free and can switch very easy,strong nerves and grip good suit or IPO sleeve ,apport natural copper and iron.. she also have exellent natural tracking skills..

BE in de 80,s I remember the winter here start in oktober until februar with - 30 1 meter snow
and nobody complain about it , we don,t play with playstation but skating as kids all day long
You must be logged in to reply to posts
---
---
---
---
Contact information
Disclaimer
Privacy Statement
Copyright Information
Terms of Service
Cookie policy
↑ Back to top