by CamoGenetics on 26 June 2017 - 03:06
So I am from the United States and have limited information/understanding about a CBKC pedigree. I have two main questions for those that might understand them/have experience with them.
1) In the registration number there is sometimes RG and CBKCE. What do each of these mean, is there a difference? These are shown on the image in blue.
2) In the registration number there are usually three or four letters after RG or the CBKCE. What do those letters stand for? I've looked at possible breeds (not it, as one breed as shown below can have many different types), kennel clubs (this I couldn't make work either), or a group (but again, multiples in one breed). These are shown on the image in yellow.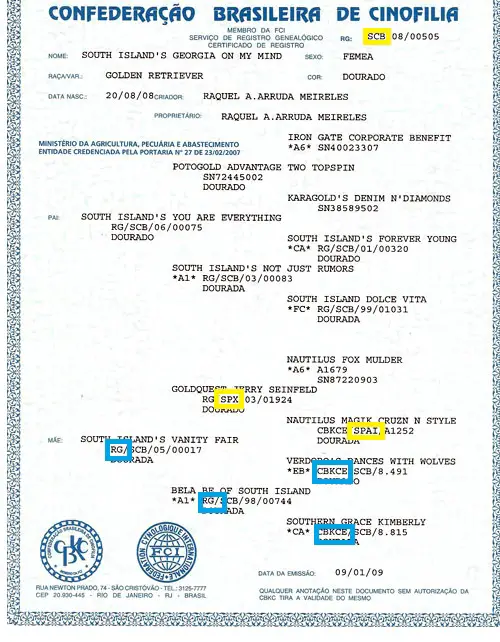 Things I HAVE learned: I've learned that any dog with a ** in front of its registration number is some type of champion in something but would like to know more about this as well if anyone has an understanding of this as well!
The words under the reg. number is the color.
Thank you.
**This image is not mine and was found on google as an example.
by CamoGenetics on 19 September 2017 - 01:09
Still asking if anyone knows!
by CamoGenetics on 17 October 2017 - 20:10
https://upload.wikimedia.org/wikipedia/commons/thumb/8/8d/Pedigree_%28FCI%29_verso_060509_REFON.jpg/798px-Pedigree_%28FCI%29_verso_060509_REFON.jpg

Found what the Champion codes mean.
You must be logged in to reply to posts
---
---
---
---
Contact information
Disclaimer
Privacy Statement
Copyright Information
Terms of Service
Cookie policy
↑ Back to top