by Blksableworkingdogs on 02 September 2019 - 19:09
Im hoping I can get a great reference for an experienced dog broker, I have two pups coming in from Slovakia sometime around September 20th. This is the first time Ive imported from a rabies free country but Ive heard how certain airport "officials" at customs or whatever will still give me a hard time if I don't have the rabies vaccination papers for each pup.
Im wanting to pay a dog broker to arrange everything so every little detail is covered and I don't have any issue at all when picking them up.
If you can recommend someone Id appreciate it a lot, if you'd rather not list there name and number on here please just send me a private message.
Thanks !

by TIG on 02 September 2019 - 20:09
The problem is if you are in the U.S. is that we are not rabies free and have significant reservoirs of the disease spead throughout our wildlife including species that are not unknown even in our urban area . Just a few are racoons (who will fight dogs even if not infected), skunks, foxes, bats...
So you are bringing in pups with no natural or inoculated immunity. The ag vet most likely is looking at the ease with which this animal can become a vector of the disease putting people and other animals at risk. That is part of his/her job to assess that risk.
Get the shot.
Even if allowed in without it most states have a requirement for it by 4 Mos of age and you will have to pay for a performance bond to admit the animal promising to inoculate it at the appropriate age and until then keep the animal unded quarantine conditions ( a headache waiting to happen and opens you up to whatever officious governmental entity chooses to get involved).
by Blksableworkingdogs on 02 September 2019 - 21:09
No doubt I will definitely get every vaccination including rabies once I have them, of course at the appropriate age as vet recommends. I just want to have a "dog broker" thats been through this process many times and can insure that "I DO" have everything in order.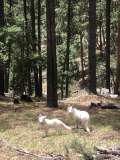 by Misty Mountain Swiss Shepherds on 02 September 2019 - 23:09
This is a customs broker I used in Los Angeles in July. Give her a call and if she can't help you, maybe she'll know someone who can wherever you're located. I did not have any hassle with my puppy who was also unvaccinated for rabies coming from a rabies free country.

Kaela Cho
Import Specialist
Coppersmith
310-607-8000 EXT 385​
by Blksableworkingdogs on 03 September 2019 - 00:09
Perfect !
Thank you very much... I'll call tomorrow... I live in Mississippi but I'm sure I'll end up driving to Dallas or Atlanta to pick them up.... I believe both those places are international airports that can be a direct flight from Slovakia, I'll call her Tomorrow.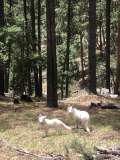 by Misty Mountain Swiss Shepherds on 03 September 2019 - 01:09
Here is one closer to you:

Ellen Chance, CHB

Jean D. Duncan Customs Brokers



TEL (404) 766-0207

Direct Line: (470) 255-8784

FAX (404) 767-0016

CEL (678) 522-0604

by Hundmutter on 03 September 2019 - 06:09
Agree with TIG - get the shots. If we export from the UK, a rabies-free country, we still send pups or adults off with the rabies injection; we may not have to, if exporting to another rabies-free zone, but that is not the case when sending to the USA.

Um, actually I do not understand why Slovakia can declare itself 'rabies free', since it is located in the body of Europe, and there are wolves and foxes and bats and feral dogs all over the Continent so that other European countries do NOT regard themselves as immune.

by emoryg on 03 September 2019 - 13:09
I second Ellen Chance through Jean Duncan out of Atlanta. I have used her many times bringing over pups and adults. So much easier than waiting on papers and then driving over to customs at ATL, or having to deal with a late flight while customs is closed. She will let you know what needs to be done with the rabies vaccination.
by Rik on 03 September 2019 - 15:09
you need to know where the dog is entering the U.S. and contact a broker there. Just a guess Atlanta. I have used Ellen and was very satisfied.

good luck.
Rik
by Blksableworkingdogs on 03 September 2019 - 16:09
I spoke with Ellen earlier, i'm definitely going to use her services, I appreciate very much the recommendation from everybody !
---
---
Contact information
Disclaimer
Privacy Statement
Copyright Information
Terms of Service
Cookie policy
↑ Back to top