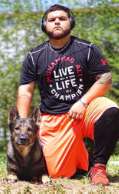 by Paya on 03 May 2019 - 03:05
Hello, I'm looking for a dog trainer who can train my pup in the future to get his BH, or IPO any information plz inbox or email me at ecuellar59@yahoo.com thank you
by hexe on 03 May 2019 - 06:05
Where are you located? If you absolutely, positively can't just find a trainer and/or club and train & title your dog yourself, and you're determined to send your dog out to someone else to train, you should at least select someone who is local to you so you're able to check on the dog's condition periodically.

Sending a dog out for training and titling will be very expensive, and if you do a search of discussions on this site, you'll find more than a few sad stories about how often the outcome of doing so ends up resulting in nothing but a lot of money spent by the dog owner, and the dog itself is discovered to have been neglected to the point of starvation, or worse yet, either allegedly 'escaping' or mysteriously dying.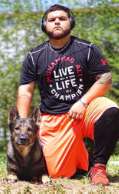 by Paya on 03 May 2019 - 13:05
@hexe true I mean I'm kinda thinking it through idk who I can trust I just hope I can find someone. Down here where I'm from there isn't much if titling dogs or training there is a k9 training center but I wanna know how I can get them titled once they have the training

by Koots on 03 May 2019 - 13:05
Still need to answer the question of where you are located, or at least indicate if you are willing to send your dog away (out of state, country, etc.). Without that it is difficult to give you suggestions.
by Koach on 03 May 2019 - 13:05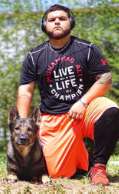 by Paya on 04 May 2019 - 00:05
Sorry I'm located in McAllen TX
by hexe on 04 May 2019 - 05:05
Might want to check the Facebook page "Texas IPO/Schutzhund", it's quite possible that there's a training group or club near you--keep in mind that in the US, most folks do have to travel at least an hour to get to a club [and some as much as five or six hours]. I've heard it said that the first test of a person's commitment to the sport is whether they're willing to travel to a club in the first place.
by GSCat on 04 May 2019 - 08:05
If no IPO, perhaps PSA club...


---
---
Contact information
Disclaimer
Privacy Statement
Copyright Information
Terms of Service
Cookie policy
↑ Back to top