by jtatmad on 24 March 2012 - 05:03
how you all doin? I'm new to all this so forgive me plez, i just have so many questions and it would be great. My pitt has been with me for 4 years, i saved her from some people who would breed for fighting. They were later arrested and a friend and i were able to find the dogs homes, I got Iceis:) Well now my girl is all grown up and had puppys but i don't Know who the dad is but the pups look like full blood pitts which leads me to belive she mated with the one down the street. Is ther any way of makin sure?

by DDRCzechFan on 24 March 2012 - 16:03
Hello, welcome to the PDB, you can always do a DNA test, they usually run about $60 PER dog, but if you have plans on selling the puppies and claiming them as purebred, and don't have AKC papers you can have DNA tests done.
All a DNA test is, is a little kit, with a cheek swab. You swab the inside of your dog's cheek, and send it off to whatever DNA company your purchased it from and they send you results.
A vet isn't required, and you can order the DNA tests online.
Here is a website with some great information about doing the testing:
http://www.canineheritage.com/
by Nans gsd on 24 March 2012 - 19:03
pitbulls are not purebred in the first place, why was she not spayed??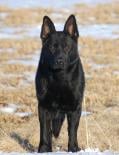 by Jenni78 on 24 March 2012 - 21:03
What? Pit Bulls are not purebred?

The American Pit Bull Terrier is what, then? A cross of what?
by Nans gsd on 24 March 2012 - 21:03
Staffi and something?

by macrowe1 on 24 March 2012 - 22:03
No, Pitt Bulls are a pure breed, and yes they originated out of different breeds, just like every other pure breed out there. I would do a DNA test if you are trying to pass them off as purebred Pitties, otherwise just find those babies good homes. Good luck.
by skizzle on 25 March 2012 - 01:03
APBT is a pure breed. You thinking about Bullies that's not pure bred. They come from staffordshire bull terrier and pit bull terrier. Staffi and Pit are two different breeds.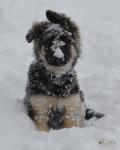 by EchoEcho on 25 March 2012 - 03:03
APBT is a purebred dog however, the last time I checked the breed can't be registered with the AKC which would make it hard to prove it is purebred (at least in the US). I do believe there are other organizations that recognize the breed. Please take the money you are going to be getting from these puppies and get your dog spayed to prevent this in the future.
---
---
Contact information
Disclaimer
Privacy Statement
Copyright Information
Terms of Service
Cookie policy
↑ Back to top