This is a placeholder text
Group text
by Shay Pace on 13 December 2011 - 19:12
Hello, let me say thanks in advance for any potential help. My husband and I got a Blue Pit puppy when he was 9 weeks old, and now he is 5 months old. He is a great dog, but since we have had him he has had problems with loose stool. We have always given him Blue Buffalo Lamb and Rice (reccomended to us from vet, pet store employees, and chat rooms) We gave it a week or two to see if the new food helped. I think before we got him he was on Iams filled with corn by product. When the problem continued we took him to our vet and he tested his stool and found nothing wrong but put him on a pill called Metronidazole, he took it once a day for one week. While he was on the pill he had normal bowl movements. As soon as the pill ran out he had problems again. Not being gross but it's pratically Brown water when he goes. So we took him back to our vet and he gave him the same pill but told us to give it to him for two weeks. Samething happened, worked wonders while he was on the pill and now the problem is back. We don't have the money to take him every two weeks to vet (although we will find a way if needed) but now I am worried because he is not wanting to eat or drink as much. He wines to go outside and then when he gets out there he just lies down? He is not as active, playfull, I am really worried. I think we are doing everything right. We feed him according to what the bag says to give him, and our vet said that was right? Please any advice??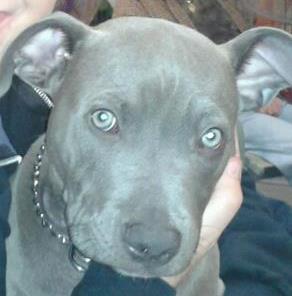 by Jyl on 13 December 2011 - 20:12
Blue Buffalo is a great food but is also a very rich food. Lamb is a richer meat too. Maybe his system can not tolerate this rich of a food?! If you want to stay with the Blue Buffalo, I would suggest trying him on a different protein. Maybe try the chicken and rice formula. BB also has a Wilderness line that is grain free. They have a chicken formula, salmon formula and also a duck formula. I would give one of those a try and see if that helps.



by EuroShepherd on 13 December 2011 - 21:12

Lamb can be harder to digest than other animal proteins such as chicken or rabbit. 

Your puppy's digestive system is not agreeing with it's diet.  Even the most reputable food brands are not right for all dogs. 
Sounds to me like your vet is taking an easy way out by fixing the symptom but not the actual problem. 

Metronidazole is an antibiotic.  It kills all the bacteria in his gut, problem is that it kills both the bad bacteria and the good bacteria.  While a healthy population of good bacteria will keep the bad bacteria in check, it takes longer for good bacteria to recover from antibiotics than bad bacteria.   Good bacteria is absolutely necessary in all animal digestive systems to digest food properly. 

Your puppy is getting sick, lethargic and in discomfort from dehydration and inability to correctly digest his food.  Would I be right in saying that even though he doesn't have diarrhea on the antibiotic he still produces a large amount of stool?  Is he pooping more than twice a day?  If so then he's wasting a lot of food, his body simply cannot digest and absorb all the nutrients. 

If this was my dog I would put them on a liquid semi-fast for 2-3 days.  Stop the anti-biotics and give clean, purified water with raw apple cider vinegar and also give him raw honey.  Perhaps some food grade diatomaceous earth too so he can get a proper balance of trace minerals and clean his gut out too.  Raw honey is an excellent source of digestive enzymes and is very therapeutic to the body.  The raw apple cider vinegar and the raw honey will kill the bad bacteria and help the good bacteria to grow.  They both also provide an excellent energy source for the body. 

After the fast I would start introducing a new food, be it a raw food diet or a new kibble.  My preferred choices that have worked excellent for me and others are Taste of the Wild Wetland's grain-free diet or Innova EVO Turkey & chicken grain free diet (I've tried a lot of grain free diets, these two have worked best for me and my dogs). 
If you have a Costco close to you they also sell a chicken and rice base diet under their Kirkland brand.  Despite being a grocery store food it has been the very best kibble with grain diet I've ever tried.  I know there are a lot of other members on PB here who also feed Kirklands. 
Another diet that does surprisingly well is Diamond's Extreme Athlete.

I would get your pup off of the lamb diet, does not seem to me like his body does well with it.  Unless your pup is definitely allergic to chicken (I've never had a dog who was) then chicken would be the easiest to digest. 

After the 2-3 day fast it should take you 4-5 days to work the pup back up to full rations, start with half a cup the first day and gradually work back up to it's full meal by about 1/4 to 1/2 cup more per day. 
Soak the food in warm/hot water about 30 minutes before feeding.  By doing this it saves the dog's digestive system a lot of time and make it easier to digest and absorb the nutrients.  It will also help with any lingering dehydration your pup may have.  
Continue the raw honey and raw apple cider vinegar for another 10-14 days.  Then just use the raw apple cider vinegar 2-3 times a week.  The food-grade diatomaceous earth has so many benefits and no drawbacks (other than don't get it in your eyes!) for dogs or people, it is an excellent daily supplement to give for the rest of the dog's life.  

Diatomaceous earth: 1 teaspoon a day, mix with food
Raw honey: 2 tablespoons/day during fast, 1-2 teaspoons a day mixed with food.
Raw Apple Cider Vinegar: a tablespoon per gallon of water is sufficient to get the benefits, but it won't hurt to drink straight either. 

Those 3 items are my "miracle drugs" for my dogs (and me too!)  Excellent for eliminating internal parasites & bad bacteria, good for the digestive system, good all around anti-microbials (anti-viral, anti-bacterial, anti-fungal, anti-protozoa, anti-prions, etc)
Even good for arthritis too!
by BamsGirl on 04 February 2012 - 19:02
Test for Giardia my puppy had it and it took months to get rid of it.
---
---
Contact information
Disclaimer
Privacy Statement
Copyright Information
Terms of Service
Cookie policy
↑ Back to top