by Hundmutter on 24 September 2017 - 06:09
It is difficult and often misleading to 'critique' any dog from a single still photo, which is why I do not do it very often. ValK, if she is within the size limits for the Breed Standard, then yes, she fulfils the intentions of Max and his chums, at least in that regard.
If however she is as big as the relative size of the person standing her makes her look in that picture, then No, she is too big.
She also has a much too masculine head, for me; but I like other things about her; and she clearly has pronounced muscle-tone.
Aakay, and your point is ...?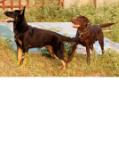 by aaykay on 24 September 2017 - 14:09
Hundmutter: Aakay, and your point is ...?
I thought the topic had drifted to structure, size and muscle tone etc.....and I just posted the picture of one of mine, where I believe the structure is ideal for any kind of work.
by ValK on 24 September 2017 - 16:09
Hundmutte, this type of bitch as Greta is, serves as perfect example of desirable type of breeding dame, i remembered from 70s-80s - strong, healthy, courageos with timely maturity and able to pass all that to their offspring. you definately right, picture don't says all but when i first spotted her picture on internet several years back, i was very impressed and started to dig in research. turned out my instinct wasn't failed me - she is what you see and albeit i'm not acquaintant with her owner, i do have great deal of respect to him for his knowledge of german shepherds and right pick.
you can check out her progeny. there are lots of for Greta's owner to be proud.
http://www.pedigreedatabase.com/german_shepherd_dog/dog.html?id=502356-greta-z-osobovske-skaly&p=childtree
anyway, since the topic about serious breeders, i (accidentally) found the breeder in Canada, who turned out is expecting first litter from Greta's grand daughter (4th gen). and Greta's grand son (3th gen). the breeder did impression of very dedicated, serious and knowledgeable lady. the only problem, she's 3000km from my location (damn those canadian distances). i cannot just come by to test and pick the pup, what i always do, and must hope Christine will do the right pick.

by Bundishep on 24 September 2017 - 17:09
A serios working line breeder should always try to maintain solid high drives and solid strong nerves at the same time in a breeding program it will serve the direction of the breed well wether the dog in wanted for law enforcement or as a ipo dog.

by Bundishep on 24 September 2017 - 18:09
And BW got it correct the midwest is a hotbed for top working Studs to consider in America when im not using my own Stud i look to the midwest area to travel to if im looking for certain genetics and thats over 1500 miles away not like Germany at all

by Baerenfangs Erbe on 25 September 2017 - 00:09
Personally, I don't worry about drives. It's a no-brainer. What isn't a no brainer these days is strong nerve and temperament.
by ValK on 25 September 2017 - 02:09
What isn't a no brainer these days is strong nerve and temperament
Baerenfangs Erbe, i think even your concern is less important.
as of these days, most harmful for breed is an extremely commercialized approach.
majority of breeders sees in each produced pup not the german shepherd but rather stocking, stuffed with money.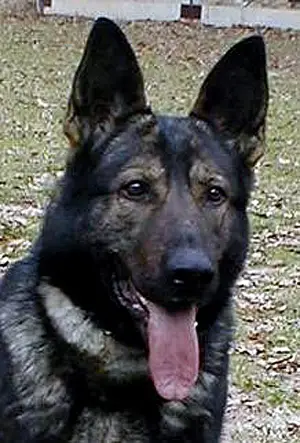 Hundmutte, here is her head.
perhaps previous shot was made from not the best angle and obvious from face expression,
she wasn't happy to stay in ridiculous "show dog" position during photo session
her breed survey you can see next to her name
5 - 58-60cm
C - straight, short croup
V - wolf grey, dark
1 - considerable hardness, courage, willingness to fight
P - strong head

by Baerenfangs Erbe on 25 September 2017 - 07:09
Well, it may not be important to others, but it is important to me as a breeder. More so than any money could be.

Personally, what I find the worst is people with money importing bitches not knowing what they are doing and then selling the pups for 2000 a pop. Brandnew to the breed, never handled a dog before but hey, money rules this world right?
Integrity in breeding is important. If you don't know the dogs, if you don't know what you are doing, don't know what whats genetic and what isn't... you shouldn't be breeding.

by yogidog on 25 September 2017 - 07:09
Be for me one the most intelligent post of the topic grate post

by yogidog on 25 September 2017 - 07:09
Be for me one the most intelligent post of the topic grate post
You must be logged in to reply to posts
---
---
---
---
Contact information
Disclaimer
Privacy Statement
Copyright Information
Terms of Service
Cookie policy
↑ Back to top