by Nans gsd on 11 January 2017 - 20:01
Love most of those Margman dogs, is Margman located in the US?? Just curious... Thx Nan

by Reliya on 11 January 2017 - 20:01
I looked at the progeny of Yes. I believe he does carry dominant black. You could get black (dominant black from sire/either sable or b&r from dam), black and red (b&r from both sire and dam), or sables (b&r from sire/sable from dam).
by 1GSD1 on 11 January 2017 - 21:01
Margman kennel is in Estonia which is the country to the north of Latvia, Latvia is to the north of Lithuania and Lithuania is to the north of Poland. I looked on a map!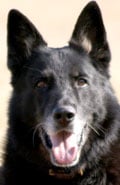 by BlackthornGSD on 11 January 2017 - 21:01
There's a clear line of solid blacks behind Margman Yes straight back to the Vogerland black dogs -- which is a form of inheritance that you almost never see with recessive blacks and you will *always* see in a (hypothetical) dominant black in GSDs (assuming there's no white or brindle).

Christine
by Nans gsd on 12 January 2017 - 02:01
Is that a friendly country to the US and our GSD population??

by doga demirel on 12 January 2017 - 07:01
Thanks for all the answers.

I will let you know about the process.

Margman Yes stays in Istanbul nowadays, later he will be in Germany, then Lithuania I guess.


When I looked his progency, I saw that he gave a lot of black pupps.

I guess I will get black, b/r and sable pupps after this breeding. But as I said before, I am curious about if I will get any bi-colour, dark sable or large saddle b/r pupps.

We will all see,
(By the way, I am not planning this breeding just because of colour expectations. Both the parents have really good character, hips - elbows and anathomy. I am trying to do sth different :) )

Thank you all again.

by Reliya on 12 January 2017 - 08:01
I don't think there's a possibility of dark sables, bi-colors, or extended saddles because any pup that inherits black from Yes will be black. I believe that those patterns only happen if recessive black is inherited.

by doga demirel on 12 January 2017 - 08:01
The sable pupps born from this litter will carry recessive black gene.
So, if we mate a sable female from this litter to a black male, can we say that now we can get those colours ?


by Reliya on 12 January 2017 - 12:01
None of these pups will get a recessive black gene because neither parent carries recessive black.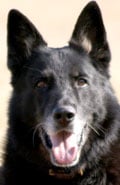 by BlackthornGSD on 12 January 2017 - 18:01
If the sire is dominant black (very likely, IMO), you will get solid blacks and sables and black and tans. The sables will most likely carry the black and tan recessive. It is highly unlikely that you will get any bicolors (tanpoints without the creeping tan modifier) because all the ancestors seem to be saddle back GSDs, and thus carry 1 if not 2 copies of the creeping tan. It would have to be possible for one of the puppies to inherit 0 copies of creeping tan, and I think that is extremely unlikely. I can't say impossible because dominant black masks all expression of the agouti patterns (sable, tanpoint, etc.), so we don't know 100% for sure what is also carried by those dominant black dogs in the dog's ancestry.

Based on the dogs that the previous generations of dominant black dogs were bred to, it is very likely that the dominant black is masking a dog who carries tanpoint/tanpoint with 2 copies of creeping tan -- that is, underneath the dominant black, the agouti patterns that the dog carries are very likely exactly the same as a regular saddle-back black/red dog like all the non-black dogs in his pedigree.

One more piece of evidence that this black gene is the dominant black is that none of the pups in these litters who are not black (that is, the non-black siblings--look back and do some research at what the siblings have produced in the past generations) will ever be able to produce black (assuming that they are not bred to a dominant black dog).

Christine
You must be logged in to reply to posts
---
---
---
---
Contact information
Disclaimer
Privacy Statement
Copyright Information
Terms of Service
Cookie policy
↑ Back to top