by joanro on 14 November 2018 - 15:11
And the dog in the video is NOT being consumed by the fight. If he was, he would not even notice when the handler arrives.
A stong dog requires a strong handler...this is not a strong dog.
A weak dog requires a savy handler...this handler does not appear to be savy.

by emoryg on 14 November 2018 - 16:11
Good comments and always enjoy taking it in and giving it thought.
I see the dog having issues with the blinds. No biggie. Does a good clean hold and bark. Escape with good grip. Helper assumes neutral position and dog takes an extra bite to elbow (seen those a lot. you call those parting shots). Good under the drive and stick hits. Good clean out and guard. Handler comes up for transport, immediate rebite. Good transport, quick to the attack, good grip and outs on command. Handler comes for side transport; dog appears to react to handlers hand. Takes a nip at end of sleeve. Long attack looks really good. Takes a another quick bite to the elbow on the neutral position. Good grip on the reattack very comfortable under the stick hits. Outs on command with another quick tag on the elbow. Good powerful guard. Rebites. Could be from approach of handler or associating judges shadow as handler. Holds the guard with handler and rebites with the loud foose command and again another rebite that gets the DQ. That's fixable.
Bad nerves or training that has the dog in conflict? Helper conflict is more condusive to bad nerves and piss poor helper work. Handler conflict on the other hand, is more often associated with initial errors in training the out. You see it when a helper improperly loads a dog before teaching the out (whip addicted helper). It can come from choking the dog off the bite, or even after the sleeve is slipped and the hander is teaching the out off the slip. You see it when the dog associates the handler with end of game outcome (bite while I can cause when Mr. Handler gets here its over). Maybe failure to delivery proper corrections and consequence for the rebites. And many many other things where the law of primacy in training can bite you in the butt. I cant tell you with just this video.
I was curious as to what the dog did on the field to make him a good cop dog candidate.
by joanro on 14 November 2018 - 16:11
Emoryg: I was curious as to what the dog did on the field to make him a good cop dog candidate.


Me: same here.

by susie on 14 November 2018 - 17:11
Now I got a phone call and lost everything I wrote...

Again: For me it's very interesting to read all the different interpretations of one and the same dog in one and the same video. 😎

My "guess" : we do see a strong dog, primarily fighting the decoy, not that interested in the sleeve.
Out of this video as a helper I wouldn't slip the sleeve without back up.
The search in the blinds trained traditionally, not through obedience or balls, but with a decoy switch Ing blinds (the old method 😀, but not very effective in case of points). For me the dog is searching for the decoy with his nose...
He is fast, agile, he sounds aggressive, he is not afraid to go "into" the helper.
Most important: he does "test" the handler, be coming less and less obedient...asshole...

Difficult to train, making use of every handler mistake, but a lot of fun...

Just my take 😎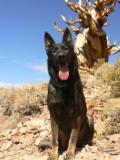 by Prager on 14 November 2018 - 18:11
I totally agree with Susie. While others here evaluate routine and training there off,.. Susie sees the dog. ( respect for that) . I think "dog person' should look at the dog.When I go to watch competitions I can not care less about points, I want to see the "dog".
Yes, this is a lot of fun dog, and when it finally clicks with a dog like this you can not have a better companion, protector, and partner. And to me, that is what having a dog is all about
That is why I love dogs like this.
by joanro on 14 November 2018 - 19:11
I was looking at the dog...not the grass nor the judge but what the dog is. He is pretty weak nerves to be doing anything beyond his familiar club field.
All the " tells" are there as to how weak nerves presents such a poor performance...experience training dogs is needed to see it.
by Vito Andolini on 14 November 2018 - 19:11
Hans

I started writing something this morning, but ran out of time. I have been trying to tell you that there are more dogs out there, especially in high levels. This video is more of what you see in club levels. Not the type, but the lack of control and training. Handlers and dogs that are higher level usually have the training and experience to make this dog look a lot better. I think it is a joke when I hear the typical BS that all sport dogs are over driven prey/point dogs. I'm not saying they're all the same, but there are plenty out there.

by susie on 14 November 2018 - 19:11
Joanro, I don't think it's weak nerves but a lot of testosterone and the will to disobey because of strength.
But that's just my opinion-never met him.

by susie on 14 November 2018 - 19:11
ValK, nobody would advertise this dog as "failed" but as "look at this performance".
You still underestimaze the desire of people to own/breed a strong dog.
Guess, you have never been a spectator on a national IPO event or at BSZS - the spectator are well aware of the good dogs, you can feel it, you can hear it...

Those people are able to recognise quality, and some of them will make use of it.
The others? Who cares...

by Vito Andolini on 14 November 2018 - 19:11
Hans

There is a great deal of difference between each club when it comes to training. I have trained with multiple groups at the same time, quite often. These groups are all different. In my experience, the groups that have higher goals obviously take it the most serious, but the training is more serious. They tend to want that balanced dog that brings aggression and power.
You must be logged in to reply to posts
---
---
---
---
Contact information
Disclaimer
Privacy Statement
Copyright Information
Terms of Service
Cookie policy
↑ Back to top