by Hundmutter on 03 August 2019 - 07:08
Unsurprisingly, MuchToLearn, I totally agree with you on that !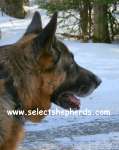 by Sue-Ann on 14 August 2019 - 02:08
Unfortunately it's a story that's repeated over and over. Buyer beware. One shyster shysters another, next fool step up?

Don't buy dogs from Serbia...at all, regardless of the seller.

If you decide you're going to be a lucky one and roll the dice, spend your money anyway, when you find out the difference, don't breed the dog, and don't sell the dog other than as a pet after altered.

You're either part of the solution or part of the problem. You decide.
by Nans gsd on 14 August 2019 - 15:08
NO: don't buy dogs from the internet.

by Hundmutter on 14 August 2019 - 15:08
Yes - I think Nan has a point. Most purchases from Serbia - or anywhere else - that go wrong can probably be traced back to an ad on the net, at some point. There ARE other ways to aquire dogs, people ! Buy in your own country; buy from other countries only from people you already know, because you've been there, or met them regularly thru' trials or shows or something; buy only after you have thoroughly researched both the kennel and the country; but don't just expect answering an advert on the huge forum that is today's internet to work out fine because you have a charmed existence and nothing will go wrong / you can't be duped.
---
---
Contact information
Disclaimer
Privacy Statement
Copyright Information
Terms of Service
Cookie policy
↑ Back to top