by JanisNovak on 06 November 2004 - 21:11
Some lines seem to naturally have ear problems. The larger heads, the wider set ears, the heavier ear leather, etc. can lead to difficulty in the ears standing. I've seen problems from Hill v Farbenspiel litters, Nero v d Zenteiche and a couple of others. There can also be a kennel management problem, too. If puppies are left together too long, they can use ears as "chew toys" and break down just erecting ears. If the pup is under 4 months old, I wouldn't worry at this point. Give good raw meaty bones to chew on (beef shank and knuckle are very good), supplement with 2 tbsp cottage cheese or whole milk, live culture yogurt at each feeding. If the bases of the ears are standing before the teething process, they will probably come up on their own. If the pup is over six months, and the ears were not up before teething, you might think about lightweight ear forms or the moleskin support. If the pup is 8 months or older, it's time to see a speciality vet. Treatments can include heavier taping and injection of calcium carbonate into the ear cartilage. It's best if the crate has room for the dog to stand without the ears touching the top of the crate. And try and crate the pup somewhere that is interesting to him/her. Good luck! JDN - US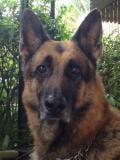 by Brittany on 06 November 2004 - 23:11
Sue, Have you tried contacting this big winner kennel in the USA for help? I'm sure she or he will be glad to help you since you are a buyer :)
by Makosh on 08 November 2004 - 05:11
What if ears were up for four days, and then one "problem" ear went down, and is down for a week now? It is down at the base, but leans to the side, not forward. Will it get back up or is it going to be a problem? Pup is 3 month and 1 week old.
by Sham-Schaf Shepherds on 08 November 2004 - 14:11
http://www.hoytt.com/ I have a very large female with heavy ears! At 8 months of age, her left ear was still not standing. I purchased ear braces from the above link for "natural ears" and her ear is perfect!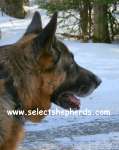 by Sue-Ann on 08 November 2004 - 14:11
At 3 months old you have no worries. Feed good quality food (not large breed puppy food)and give the pup plenty of mental stimulation. Make certain the pup is not being dominated by another dog. You do need to contact the breeder for ongoing support. Don't wait until you have a real problem. Your breeder should be the 1st place your questions are directed. When I sell pups I want my people to think of me as a resource for information...throughout the entire life of the dog. Enjoy your pup...the behavior of the ears sounds perfectly normal. Warmest Regards, Sue-Ann
by wildthing on 09 November 2004 - 04:11
Hi Sue I got a male from Germany some years back, he came with a broken ear, but the breeder said it had been up. WALLA, if once up it will go back up but bad ears and soft teeth are genetic also. What an old German lady in Canada told me to do was get at a Pharmacy Restone a dence one inch think type of foam for human use along with skin bonding glue. It is in a metal can with a dabber bulb on the end of the dabber. Cut or make a pattern to the ear lobe only no further down into the canal, trim hair off from the ear so u can keep it clean and good air flow. Then lay your light cardboard down on the Restone and cut a pattern and place glue on and put inside top of bad ear, hold five seconds to bond, the entire ear will flop but it is holding the cartlidge in place,let it droop. Give the dog a tbsp spoon of peanut butter daily during this 2 wk treatment, if the dog scratches it out be persistant and replace in and soon it become part of him/her. Take off about every 3 days to clean the ear out and dry good and reapply treatment, I can send u photos of before and after it works.!!!
---
---
Contact information
Disclaimer
Privacy Statement
Copyright Information
Terms of Service
Cookie policy
↑ Back to top